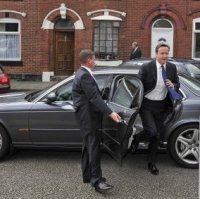 Second-hand car dealers are well used to using their sales patter on people from all walks of life but not many will have sold one of their vehicles to the Prime Minister.
But that is just what the owner of a forecourt in David Cameron's Oxfordshire constituency did, selling the PM a 12-year-old Nissan Micra as a "run about" for his wife Samantha.
Iain Harris, owner of the Witney Used Car Centre in Minster Lovell, told the Daily Mail he thought it was a joke when he received a telephone call to say Mr Cameron was coming to look at a vehicle.
But a short time later Mr Cameron arrived at the forecourt. Mr Harris told the newspaper that the Prime Minister had spent around an hour looking at the blue Micra, which has nearly 93,000 miles on the clock.
He had then returned the following morning, paying for the £1,500 car in full on a card. He is said to have told staff the insurance had been sorted out before driving off in the car, followed by security personnel.
Mr Harris said the Prime Minister had insisted on buying a car that had been made in Britain and had ignored more expensive vehicles on the forecourt. Describing him as "down to earth", Mr Harris told the paper that Mr Cameron had been "just like any other bloke buying a car for the wife".
Copyright Press Association 2016. Motoring News articles do not reflect the RAC's views unless clearly stated.