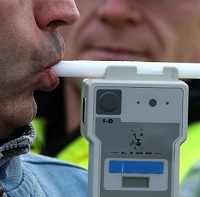 Motorists face new drug-drive tests this month.
They are being warned that police officers are more prepared than ever before, as their new summer drink-drive crackdown gets underway.
The June-long National Police Chiefs' Council (NPCC) initiative will also target drug-drivers and involve new testing kits for both.
Unlike before, the new devices will be able to identify cocaine and cannabis in a driver's system.
The Council's head of road policing Suzette Davenport especially wants to get the campaign's message across to younger motorists.
Chief Constable Davenport, launching the drive on Monday, said that is because this is the age group which usually takes the most unnecessary risks.
She said that police forces up and down the country would be the best-equipped ever to crack down on drivers who take drugs or alcohol this summer - whether first thing in the morning or last thing at night.
Last summer 6.45% of motorists pulled over on suspicion of drink-driving proved positive or failed or refused to take the test. This equated to 4,108 breath tests out of 63,688.
Brake believes that the culture of drink-driving is changing. The road safety charity's deputy chief executive Julie Townsend said that the practice seemed to be becoming increasing "socially unacceptable" throughout the UK.
In fact, motorists would like to see the rest of the country follow the Scottish example by reducing the limits, according to a recent opinion poll .
Figures released last week show that the volume of Scottish drink-drive offences has dropped since the legislation came into force. Offences fell there by 17% during the opening quarter of 2014, according to Police Scotland statistics.
March's new drug-drive legislation is another key measure in bringing "risky impaired" motorists to justice, Ms Townsend added.
But she says there is still a "long" distance to travel before the "menace" is snuffed out altogether.
Copyright Press Association 2015