'Noise cameras' could soon be a fixture on UK roads after the Department for Transport (DfT) announced new plans to tackle noisy drivers.
The cameras, which detect cars or motorbikes exceeding the legal noise limit, will be trialled in several locations over the next seven months.
They're part of plans to address the issue of noise pollution, and could be rolled out across the country if the trial proves successful.
Breakdown cover from just £7.95 a month*. Plus up to £150 of driving savings!
The cameras could work in a similar way to speed cameras, automatically capturing the number plate of offending vehicles as they pass.
The trial responds to growing concerns by police forces about excessive noise from car and motorbike engines, particularly in quieter residential areas.
Noise cameras are already in use in other countries, including Canada, Australia and Singapore, but this trial will be the first time the devices have been used on UK roads.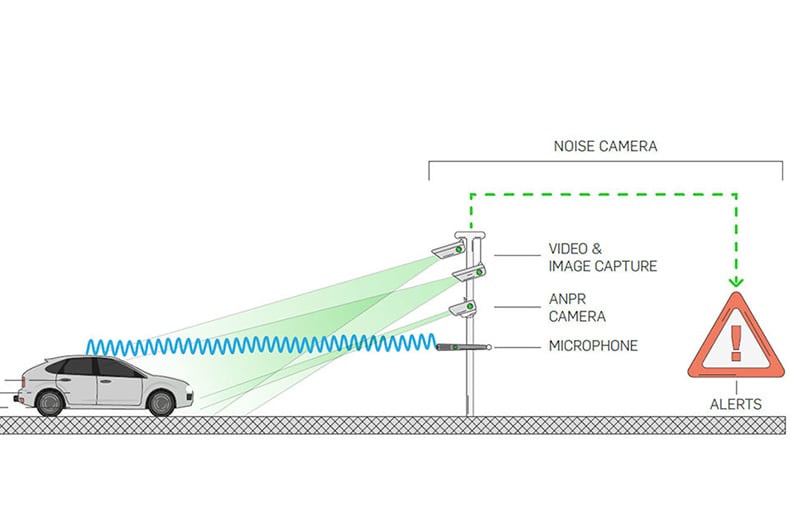 Source: gov.uk
In reference to the announcement, Transport Secretary Chris Grayling called noisy motorists a "blight" who make the lives of people across the UK an "absolute misery."
He said: "I am determined to crack down on the nuisance drivers. New technology will help us lead the way in making our towns and cities quieter, and I look forward to seeing how these exciting new cameras could work."
RAC spokesman Simon Williams said everyone will have been frustrated by hearing cars or motorcycles making an unacceptable amount of noise and seemingly getting away with it.
"Residents and law-abiding motorists are right to be particularly annoyed when they see and hear cars and motorbikes that have been deliberately modified to make them louder than they should be.
"We believe most people will be relieved that steps are being taken to tackle this kind of noise pollution. We hope the trial is successful and that the technology can be cost efficiently be rolled out to the worst affected areas."
The move comes after authorities in Bradford announced plans to slap inconsiderate motorists in the city with a £100 fine for anti-social driving.
Offenders will be hit with a Public Space Protection Order (PSPO) for a range of behaviours, including revving engines, playing loud music and shouting obscenities from moving vehicles.
Copyright Press Association 2019. Motoring News articles do not reflect the RAC's views unless clearly stated.