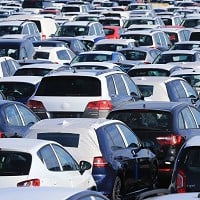 New car sales raced to a 21st century record in March - just shy of half a million.
A total of 492,774 new registrations were recorded during the month - making it the highest monthly figure since August 1998 and the best March ever - as drivers splashed the cash on the latest models to roll off the production line.
The Society of Motor Manufacturers and Traders (SMMT), which released the figures, wants to see the new government maintain this momentum through continued investment, innovation and policies.
'15' plates boost
The new car market has now enjoyed 37 months of consecutive growth. March's figure was up 6.0% year-on-year, boosted by the introduction of the new '15' number plates, taking the year-so-far total to 734,588.
It means total sales were up 6.8% on the January to March period in 2014.
The Ford Fiesta was the best-selling model during the month, followed by the Vauxhall Corsa and Ford Focus.
Nissan's Qashqai and Volkswagen's Golf made it into the top five, while the Volkswagen Polo, Vauxhall Astra, Audi A3, Mercedes-Benz C-Class and Fiat 500 complete the top 10 put together by the SMMT.
New government priorities
With the upcoming general election on May 7 too close to call, the SMMT is urging whoever claims power to keep up a commitment to the automotive sector, which is delivering both at home and abroad.
It says the challenge for the new government will be to maintain the momentum in the new-car market, encourage drivers to buy cars , and to strengthen the UK's manufacturing capabilities through continued investment, innovation and policies.
Some 257,300 cars rolled off UK production lines during the first two months of 2015 - and many industry experts expect production to exceed pre-recession levels this year, buoyed by export revenues of £26.2 billion in 2014.
The SMMT claims increasing the rate of R&D tax credit and bolstering funding for long-term initiatives such as the Advanced Propulsion Centre will be essential in helping UK manufacturers lead this innovation.
It also wants to see investment in skills to ensure the UK workforce has the capabilities to develop and manufacture the next generation of technologies, and believes membership of the European Union is paramount.
Copyright Press Association 2015