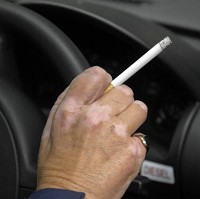 MPs in England have voted to make it illegal to smoke in cars when children are present.
The new law will come into effect from October 1, following a vote which saw a winning majority of 342 to 74 MPs back the health initiative.
Supporters of the new law describe it as a "significant victory", while a smoking group says the move is "excessive".
According to the British Lung Foundation, some 430,000 children are exposed to second-hand smoke in family cars every week. The Department of Health says the new law will help protect young children from the potentially dangerous substances found in cigarette smoke.
Chief Medical Officer Professor Dame Sally Davies welcomed the move, describing it as a "significant victory for protecting children's health from second-hand smoke."
She said that the smoke from just a single cigarette can expose children to cancer-causing chemicals like arsenic, formaldehyde and tar.
Professor Kevin Fenton, national director for health and wellbeing for Public Health England, said that having smoke free cars and homes is "a positive step" towards protecting children from dangerous chemicals.
But Simon Clark, director of the smokers' group Forest, describes the legislation as "excessive", adding that most smokers know it's not acceptable to smoke in a car when a child is a passenger. He criticised the government for "micro-managing" people's lives.
Copyright Press Association 2015