A man has been charged with dangerous driving after being caught with what police "could not believe" was only a miniscule gap scraped out of their snow-covered windscreen.
The car's roof and windscreens front and back were almost entirely engulfed in a thick coating of snow, with only its side windows visible when it was pulled over by officers in Dundee.
In what was labelled "about the most extreme example of lack of preparation" the force had ever seen, the only sign of an attempt to clear the snow was a small circle on the right-hand side of the front windscreen.
Inspector Greg Burns said it was "miraculous" that no one came to harm as a result.
He said: "Our officers genuinely could not believe what they were seeing when they saw his car today. This man has put himself and other road users and pedestrians at huge risk by driving the car in this condition."
Tayside Police later on Twitter posted images of the vehicle – described by police as having "practically zero-visibility" – as they pleaded with the public to show more common sense, and ensure their windows are properly cleared before driving.
The tweet read: "This car was stopped by our Roads Policing Unit shortly before 10am today (11th), at Kinnoull Rd, Dunsinane Industrial Estate in Dundee.
"The driver has been charged with dangerous driving.
"We know it's inconvenient having to clear your car before you drive, but it MUST be done."
Meanwhile on the same day, a driver in Edinburgh whose windscreen was covered in ice was also charged with dangerous driving.
Following a similar theme, pictures tweeted by Road Policing Scotland showed the motorist had only scraped a small area of ice away on the driver's side.
The tweet said: "LivingstonRP stopped this vehicle on Maybury Road this morning, whilst on enquiry in Edinburgh.
"A pedestrian or cyclist wouldn't stand a chance of being seen.
"The driver has been cautioned and charged with Dangerous Driving and has been reported to the Procurator Fiscal."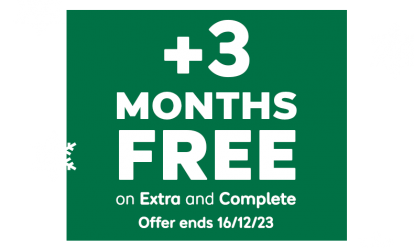 With 12 months of cover, new customers get an extra 3 months for free*.
*Added after 12 months, excludes Basic cover. New customers only. Ends 16/12/23, 7am