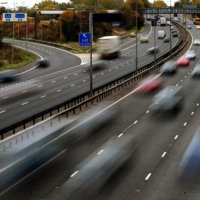 The number of cars on Britain's roads has hit a record high of more than 30 million, new figures show.
Although the data shows traffic levels for 2015 were only slightly higher than they were the year before, the RAC says it is concerned that the growth over the last 20 years has vastly outpaced the increase in the size of the UK's road network.
The motoring organisation says while the amount of traffic has increased by 18.6% since 1995, the total length of Britain's roads has only risen by 2.4%.
Motorway traffic, it adds, has rocketed by 44% over the same period, while the total length of the country's motorways has increased by less than 12%.
The Department for Transport figures show that while there were only 21 million cars on the road in 1995, that total had soared by 43% to over 30 million by 2015.
Commenting on the figures, Nick Lyes, the RAC's roads policy spokesman, says: "Having a road network that is fit for purpose, in terms of being able to cope with increased traffic as well as being maintained to an acceptable level, is vital for a prosperous economy.
"There is little doubt that the Government's Road Investment Strategy recognises the importance of this, but these figures show there is a lot of catching up that must be done."
Copyright Press Association 2016. Motoring News articles do not reflect the RAC's views unless clearly stated.