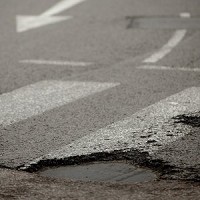 Taxpayers are funding almost £220 million in bills each year to clean up the mess made by utility companies' contractors, according to research by the Local Government Association (LGA).
Councils in England and Wales are forced to repair 340,000 street surfaces a year which are poorly relaid after roadworks. The extra work costs the taxpayer £218 million and covers the resurfacing of almost one sixth of all private companies' roadworks.
In addition, shops across the country are losing thousands of pounds each week and local growth is suffering as a result of problems arising from unfit roads.
The LGA this week presented its findings to a meeting of highways bosses, utility company managers and business leaders. The aim is to prevent roadworks further impacting shops, councils and motorists, who are forced to use theirbreakdown cover to recover vehicles damaged by potholes.
A plan to enable councils to draw on a deposit scheme to pay for repairs to inadequately resurfaced roads was mooted, as well as an inspection and future repair charge paid by utility companies.
A proposed online star rating system would help utility companies find reliable contractors and avoid unnecessary extra costs.
Copyright Press Association 2012