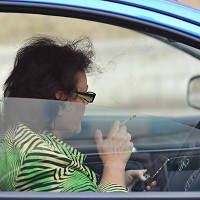 Thousands of motorists will continue to put their children's health at risk by defying a new smoking ban, a new survey by money.co.uk suggests.
From October 1, smoking in cars carrying anyone under 18 will be illegal and punishable with a £50 fine.
But one in five (21%) of the smoking motorists questioned say they'll ignore the ban and carry on lighting up behind the wheel even if there is a child in their car.
And the proportion who carry on smoking with minors in their vehicle is likely to be even higher, with a further 29% having told researchers they were unaware of the new law.
One in 10 of those quizzed believe secondary smoking doesn't pose a risk to children, with a similar proportion (11%) insisting the practice is safe if a car's windows are open.
One in eight (13%) say because they smoke at home with children present they should be allowed to do so in their own car.
Others believe the new law's age limit should be lower. Proportions of 12%, 5% and 4% say the ban should only apply when under-16s, under-12s and under-fives respectively are in a car.
Money.co.uk's editor in chief, Hannah Maundrell, says the survey's results suggest the ban is going to be hard to enforce. She adds that a complete ban on smoking when a vehicle is carrying passengers could be a better option.
Copyright Press Association 2015