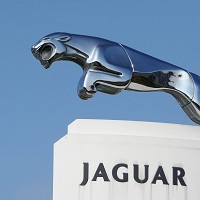 Jaguar dealers are the best for customer service, according to a new poll.
The luxury brand scored the highest marks in a car dealer satisfaction survey carried out by information services company JD Power, with the results published in What Car? magazine.
This is the second year running thatJaguar has been voted best dealer, and it also topped a similar poll earlier this year for car satisfaction.
Customers particularly liked Jaguar's friendly advisers, the flexibility of booking in their vehicles, convenient vehicle pick-ups and handovers, and the time spent explaining details of work required following a service orbreakdown .
What Car? editor-in-chief Chas Hallett said: "Jaguar owners love their dealers as much as their cars, awarding their dealers top marks in the annual survey. Jaguar is in an enviable position."
Lexus came second in the rankings, followed by Honda, Mercedes-Benz, Land Rover and Toyota.
Chevrolet found itself at the bottom of the pile, behind Alfa Romeo, Fiat, Peugeot and Mitsubishi.
Mr Hallett added: "Good service makes all the difference. Every new car buyer deserves a friendly, efficient and value-for-money service from their dealership - whether the car is premium or bargain-basement."
Copyright Press Association 2013