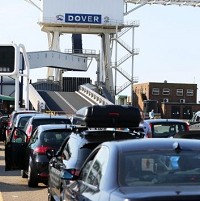 The RAC has urged UK motorists to get clued-up on their European emergency numbers.
Our new survey exposes Britons' ignorance of what to do if in distress on overseas roads.
RAC European Breakdown found that most drivers can't name the European Union (EU)-wide three-digit number to call in emergencies. Only 38% know the correct answer is 112.
This is particularly concerning with so many of us driving abroad this year. Almost 6 million of the country's motorists are expected to head to Europe before 2015 is out, especially during the summer season.
Worryingly, 10% think the normal UK 111 non-emergency NHS line extends its reach throughout the EU.
A further 6% confuse their continents and claim they would ring 911. This would, however, only get them through to Canada and the US's emergency services.
One in 20 would call 101, which is Britain's non-emergency police hotline.
David Huggon, the manager of Euro-wide breakdown operations for the RAC, said: "We all recognise 999 as the main emergency phone number in the UK, but it appears that once we've left the country we leave our knowledge of who to ring in an emergency behind too.
"The 112 number works right across the EU, including the UK.
"But it doesn't get a lot of promotion - certainly not in Britain, where we have 999 anyway, but not a great deal in continental Europe either, although electronic motorway signage in some countries including France is used to remind drivers.
"So as well as having a quality European breakdown policy in place, motorists driving abroad would do well to keep a note of this emergency number handy.
"Drivers need not be concerned about language barriers either, as in many cases dialling 112 will put you through to an English-speaking call handler while abroad."
Mr Huggon went on: "The 101 and 111 phone numbers were introduced in the UK to make it easier for people to remember how to contact the police and NHS in a non-emergency situation, but when you factor in 112 as well, it appears that people are getting confused over which number to dial.
"Each year, the RAC attends thousands of summer breakdowns in continental Europe, with the majority taking place in France.
"But while buying a comprehensive breakdown policy for a driving trip abroad should be on the to-do list for every driver leaving the UK, our data shows it is a good idea to remember 112, too."
To unravel the confusion between British, European and North American emergency numbers, drivers can familiarise themselves with the correct numbers.
The EU-wide emergency helpline is 112 and the North American one is 911.
The UK's emergency helpline is 999, its police non-emergency helpline 101 and the NHS non-emergency helpline will be 111 from this October.
The RAC provides advice and five-star DefaqtoEuropean Breakdown cover to British motorists heading to the Continent.
Copyright Press Association 2015
https://www.defaqto.com/ (five-star Defaqto)