Visitors to England's A&E departments are expected to pay up to £77 to cover daily parking costs.
Guy's and St. Thomas' Hospital in Central London topped a list of most expensive parking spots across 154 hospitals, in a survey that considered general hospital parking rates where A&E-specific parking wasn't available.
The most expensive daily parking rates at A&E in England:
Guy's and St Thomas' NHS Foundation Trust (London) – £77
Whittington Health NHS Trust (London) – £72
Imperial College Healthcare NHS Trust (London) – £40
Chelsea and Westminster Hospital NHS Foundation Trust (London) – £40
King's College Hospital NHS Foundation Trust (London) – £29
St. George's University Hospitals NHS Foundation Trust (London) – £25
Sussex Community NHS Foundation Trust (Sussex) – £20
Luton and Dunstable University Hospital NHS Foundation Trust (Bedfordshire) – £20
Portsmouth Hospitals NHS Trust (Hampshire) – £18.20
Perhaps unsurprisingly, parking a vehicle for 24 hours was most expensive across London's A&E departments, and only three hospitals outside of the capital made the top 9.
This review conducted by Hippo Leasing has caused a bit of a stir in popular media, but the hospitals respond that they have to charge the rates they do to protect against misuse of their facilities.
A spokesperson for Guy's and St. Thomas' NHS Foundation Trust said: "To ensure our car parking spaces remain available for our patients and are not misused by members of the public visiting central London, the £3.20 hourly cost of parking at St Thomas' Hospital is in line with local parking facilities. The site is also very well served by local public transport links".
They said: "We also offer a discounted rate of £5 per day or £25 for seven days in certain cases.
"This could include when someone visits one of our long-term patients on a daily basis."
A recent PA Media survey found 86% of patients and visitors think parking adds to the stress of a hospital visit.
Most of the on-site A&E car parks surveyed charge a daily rate for any period over six hours. Guy's and St. Thomas' however, does not. Meanwhile only seven of the 154 hospitals in question offer free A&E parking, no matter the length of stay.
However, 72 of the hospitals offer free 'drop-off' parking ranging from under 10 minutes to up to an hour.
Health Secretary Matt Hancock also laid out new plans for hospital parking in December last year.
All 206 hospital trusts in England will be expected to provide free car parking to blue badge holders and frequent outpatients managing long-term conditions from April 2020.
Free parking at specific times will also be provided for parents of sick children staying in hospital overnight and staff working night shifts.
What do you think? Do these high fees seem unfair to you, or do you think that they are this high to prevent misuse? Leave a comment below.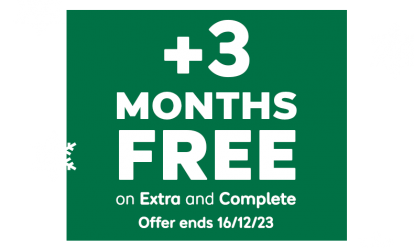 With 12 months of cover, new customers get an extra 3 months for free*.
*Added after 12 months, excludes Basic cover. New customers only. Ends 16/12/23, 7am