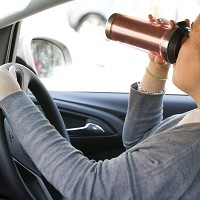 Drivers who have a condition which disrupts breathing during sleep are at greater risk of dropping off behind the wheel, according to road safety experts.
Motorists are seven times more likely to fall asleep while driving if they have sleep apnoea, according to Ireland's Road Safety Authority (RSA), which recently carried out a study in the country.
It also says that fatigue plays a part in around one in five road traffic accidents on Ireland's roads.
Sleep experts are urging people to be aware of the signs of the sleeping condition, as early diagnosis and effective treatment could potentially save lives.
Earlier this year the RAC teamed up with the Sleep Apnoea Partnership Group to present research on obstructive sleep apnoea syndrome (OSAS) - a severe form of sleep apnoea.
In Britain, 5% of the adult population are thought to have undiagnosed sleep apnoea, of which about a quarter have OSAS.
RAC chief engineer David Bizley said: "This issue should be a real concern for anybody who drives a vehicle, whether it's a car, a van or a heavy goods vehicle (HGV). In fact, an activity such as driving on a motorway can exacerbate the problem as it can be extremely monotonous and hypnotic, particularly if you're already feeling sleepy.
"There is a real need to raise awareness of this issue, particularly among employers who run fleets of vehicles, whether company cars or delivery vans. The consequences of falling asleep at the wheel can be catastrophic, both for the driver themselves and anybody in their vicinity. But it's also important to emphasise there is a solution as very effective treatment is available. If you suspect that you may have the condition, speak to your GP and get it checked out."
Prof Walter McNicholas, director of the pulmonary and sleep disorders unit at St Vincent's University Hospital, says driving is highly dangerous for people with untreated sleep apnoea.
But he adds that effective treatment can make the condition far easier to manage, thereby reducing danger on the roads.
He also warned drivers against believing short bursts of sleep are an effective way of managing the condition of persistent sleepiness. He says napping for 15 to 20 minutes can only revive a motorists for an hour at most.
Copyright Press Association 2014