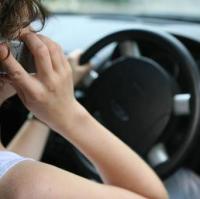 The vast majority of motorists regularly spot other drivers illegally using a handheld mobile phone while they are behind the wheel, the results of a new RAC survey suggest.
The findings have prompted the motoring organisation to call on the Government to fund a high-profile public awareness campaign in a bid to combat the problem.
Almost two-thirds (64%) of those questioned say they witnessed at least one other motorist illegally using a phone during their last hour on the road.
And all but 5% say they regularly see another driver looking at a phone while they are in stationary traffic.
When it comes to their own behaviour, meanwhile, nearly a third (29%) of those surveyed admit they occasionally use their phone while they are on the road. One in 100, though, admits they break the law by doing so during during most journeys.
The research suggests that while men are the most likely to make a call while driving, women are more likely to send or read a text.
Commenting on the findings RAC spokesman Simon Williams says: "Thirteen years after the introduction of the current law forbidding use of a handheld phone at the wheel of a vehicle, this behaviour is far from being stamped out. In fact, the results of our research suggest the problem has got worse rather than better.
"There seems to be an unfortunate perception that a quick look at a phone at the traffic lights is okay.
"However, it is a significant distraction which at best may hold up other road users when a driver doesn't notice that the lights have changed, and at worst may increase the risk of a collision with a pedestrian, cyclist or another vehicle."
Mr Williams adds that while government plans to introduce tougher penalties for the offence are to be welcomed, a high-profile advertising campaign is needed to raise people's awareness of the consequences that the habit can have.
Using a handheld phone while driving, he adds, should be seen as being as socially unacceptable as drink-driving and speeding.
Motorists caught using a handheld mobile behind the wheel currently face a fine of £100 and three penalty points on their licence.
Copyright Press Association 2016. Motoring News articles do not reflect the RAC's views unless clearly stated.