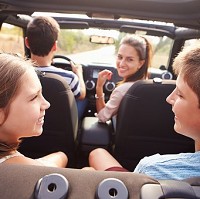 Few things bond British dads and their children more than in-car singing, according to a new poll.
Family car-aoke is a big hit with three-quarters (75%) of the 1,000 fathers questioned in Skoda's survey of the country's favourite in-car entertainment.
Nearly one in five fathers (18%) are even happy to put on their children's music when driving solo.
With bank holiday weekend looming and families setting their journey planners to visit friends, relatives and coastal regions, it found that such games particularly keep daughters amused on marathon trips.
Let It Go from the Disney musical Frozen is the number that most sticks in fathers' heads, with over half of them (55%) naming it as their most popular children's song.
A further one in five (19%) said they know the words, the Czech car manufacturer found.
Nearly a third (31%) owned up to being fluent with the Happy lyrics of Pharrell Williams, while 22% can recall the words to Poker Face by Lady Gaga.
Roughly half of the dads think in-car sing-alongs significantly contribute to their bonding with their girls.
Nearly two-thirds (63%) of children questioned said it makes them laugh that their fathers are learning their age group's song lyrics. Just 37% called it embarrassing.
Skoda UK brand head Alasdair Stewart explained the rationale behind the poll - claiming the firm wanted to look at how long trips away could be made more enjoyable. Finding the correct music can certainly help hit the right note between parents and children during such journeys, Mr Stewart added.
As a travel journalist and dad-of-two, Dom Joly should know a thing or two about keeping children amused. The 47-year-old comedian admitted their family car trips could be "Hell" - adding that preparation is the key.
He calls family car-aoke a "brilliant" method of beating back-seat boredom and repetitive demands for updates about how close they are to their final destination.
Joly called it "sad" that he had to place the "mainstream" likes of Lady Gaga and Pharrell above his usual "immaculate" tastes in indie music to keep his younger passengers happy and singing.
Copyright Press Association 2015