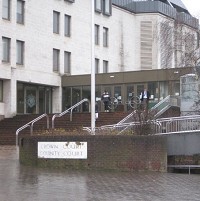 A couple from Kent who masterminded a £920,000 insurance scam have been jailed following an investigation by HM Revenue & Customs (HMRC).
Latvian Elina Jaksone, 36, and Cypriot Gagik Kyriacos Manucharyan, 40, posed as 'ghost' insurance brokers selling cheap car insurance deals to Eastern European customers.
Hundreds of motorists paid £100 each over a seven-year period, allowing the multinational couple to provide false and misleading information to underwriters in a bid to secure cheaper policies.
The scheme left scores of oblivious customers with potentially void insurance policies, while the couple funded a luxury lifestyle, including putting one of their children through a top public school.
HMRC decided to prosecute the pair after an investigation found they had failed to pay any tax on their £920,000 earnings, which amounted to more than £340,000 in unpaid taxes.
More than 30 disgruntled motorists testified against the couple at Maidstone Crown Court, which saw Manucharyan sentenced to five years and two months and Jaksone for five years.
The judge also ordered their deportation upon their release.
Copyright Press Association 2013