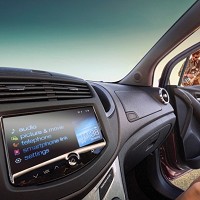 The idea of talking cars sounds like something from sci-fi cartoon The Jetsons, but it's soon set to be a reality.
From next month Chevrolet Aveo and Cruze models fitted with the MyLink touchscreen system will be able to use Apple's personal assistant app Siri.
The Trax small SUV will also come with MyLink and Siri connectivity when it hits showrooms later this year.
Chevrolet's MyLink technology allows drivers with a compatible iPhone running the iOS 6 operating software to use Siri's voice activation software, leaving them free to keep their eyes firmly on the road.
The American auto manufacturer has also built on the hands-free concept to include an eyes-free mode which prevents the device's screen from lighting up, minimising driver distraction.
Manually using your mobile phone to talk, text or send emails while driving is illegal and significantly increases the likelihood of a serious accident or an emergency call to yourbreakdown cover provider.
Owners of Aveo and Cruze vehicles will, among other things, be able to use Siri to make voice-activated calls, play songs in their iTunes libraries, compose and send an iMessages or texts to a phone number or anyone in saved contacts.
Copyright Press Association 2013