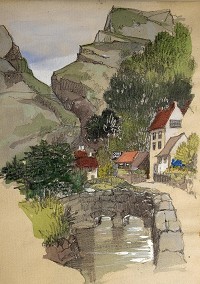 The diary notes of a caravaning holiday in the South West has been published almost 80 years after it was written.
Compiled by famous First World War artist Len Smith in 1932, the diary records his two-week journey through the English countryside.
Complete with photos and drawings by the artist, Smith offers an insight into life in rural England between-the-wars with his wife, Jessie, two friends and a dog called Rags.
The book, A Caravan Holiday, depicts the family's journey through Aylesbury, Gloucester, the Forest of Dean, Chepstow, Cheddar and Lyme Regis, with Smith sketching well known sites, such as Tintern Abbey, along the way.
Cost of an overnight stay at a farm was as little as one shilling (5p), which included milk from a cow each morning, and the total bill for holiday came to 17 shillings (85p), significantly less than the average cost of two-weeks in the UK now.
While renting the caravan - a Car Cruiser made in Hayes, Middlesex - they were issued advice on how the caravan owner should approach a farmer.
It read: "Farmers as a class are extremely hospitable, but are often slow and careful in thought. Explain frankly what you want and let them see you understand country manners."
Copyright © Press Association 2009