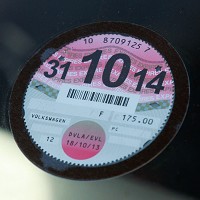 The RAC has described a rise in the number of untaxed vehicles on the road as "very worrying".
New figures released by the Department for Transport (DfT) show car tax evasion has more than doubled in the wake of the decision to replace the traditional paper tax disc with an electronic system last year.
Around 560,000 drivers are now dodging the annual payment, up from 210,000 in 2013.
RAC chief engineer David Bizley said: "These are very worrying and disappointing statistics indeed.
"Sadly, the concerns we raised about the number of car tax evaders going up at the time the tax disc was confined to history have become a reality.
"Prior to the new system going live last October the RAC made the point that enforcement would principally be carried out by automatic number plate recognition cameras as is the case with motor insurance where the exact number of evaders is not fully known, although the figure is thought to be over one million."
The DfT estimates 1.4% of traffic on roads in the UK this year consisted of vehicles which were unlicensed, compared to 0.6% in 2013.
This could cost £80 million in lost Vehicle Excise Duty revenue, up considerably from £35 million two years ago.
"We really cannot afford for this to increase again for the sake of both road safety and the country's finances," adds Mr Bizley.
"Hopefully, much of the increase in evasion is due to the system being new and these figures will reduce as motorists become more familiar with how it works. The RAC believes it is vital that this survey is repeated in 12 months' time - if not sooner - rather than in the normal two-year period so we can establish once and for all whether the increase is simply a temporary result of the new system."
Copyright Press Association 2015. Motoring News articles do not reflect the RAC's views unless clearly stated.