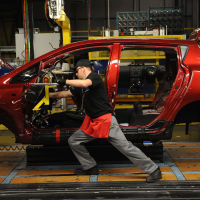 A car is being built in the UK every 16 seconds after a huge increase in production, new figures have shown.
More than 159,000 cars rolled off production lines in March, almost 10% more than in the same month last year, and the highest figure for 12 years.
More than 440,000 cars were built in the first quarter of 2016, a 10.3% increase on last year, said the Society of Motor Manufacturers and Traders (SMMT).
Exports grew by 11%, slightly more than the home market, with the SMMT predicting record levels of production by 2020.
Car workers are now putting in record levels of productivity and around twice the UK national average, said the SMMT.
SMMT chief executive Mike Hawes said: "UK car plants were at their busiest for 12 years in March, with a vehicle rolling off production lines every 16 seconds thanks to heightened international demand for British-built cars.
"Much will depend on economic and political conditions in key markets but, with several brand new global models starting production here in the first quarter alone, the prospects for future growth look bright."
Mr Hawes highlighted the revival of the industry in Wales following £240 million of investments in recent months from firms including Aston Martin, TVR and Toyota.
Production of cars ended in Wales in 1973, but the country has now become an increasingly attractive place for investors.
"The recent investment announcements in Wales come as a welcome boost, not just to the sector, but to the local economy at a time of wider industrial uncertainty," said Mr Hawes.
Other figures showed a 13% fall in production of commercial vehicles in March, although exports increased by a fifth in the first quarter of the year.
An estimated 38,000 new jobs will be created in the car industry by 2020, including 27,000 in the supply chain, although firms continue to struggle to recruit skilled workers such as engineers and designers.
Copyright Press Association 2016. Motoring News articles do not reflect the RAC's views unless clearly stated.