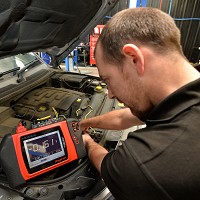 New guidance being made available to companies should help to ensure that vehicle fleets are better prepared for the roads, a road safety charity claims.
Brake says the information available in its Fleet Safety Forum will place company vehicles at a reduced risk of breakdown , expensive repairs and dangerous crashes.
Statistics from 2012 show that defects in vehicles contributed to 2,123 road crashes in Great Britain - 33 of which caused at least one death.
Officials from Brake say its project will help improve regular vehicle servicing; which in turn can cut back on repair costs, insurance premiums and time spent off the road.
The "Maintenance and mechanics: how safe are your vehicles?" guidance advises business managers on steps which can improve roadworthiness while also setting out what non-compliance with motoring regulations can mean.
Driver education is also addressed, including how they can spot and report potential problems, while training and accreditation of vehicle technicians is also examined.
Copyright Press Association 2014