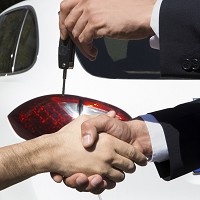 Motorists will be entitled to return a newly-purchased vehicle within 30 days if it proves faulty, from next week.
People buying a car from October 1 will be within their legal rights to reject it and take it back under the 2015 Consumer Rights Act.
This replaces the existing Sale of Goods Act.
The new law will empower consumers with the legal right to return and reject defective goods, including cars, for up to 30 days after the initial purchase.
Under the existing legislation, sellers have only been obliged to replace or make good the damaged part of the product.
The Sale of Goods Act will still be in place to help consumers whose goods are faulty from 30 days to six months after the original sale date.
It is only when a retailer does not correct a problem, that the purchaser gets the entitlement to turn down the product and request a refund or a replacement after the 30 days have expired.
The Citizens Advice service believes the incoming law will make things more simple to understand for consumers. A spokeswoman says it will enable vendors and customers to reach an agreement with far more confidence.
She added that "trustworthy", "honest" dealers should not be concerned about the new Act's implications since it underlines what is required from both buyer and seller alike during a deal.
Copyright Press Association 2015