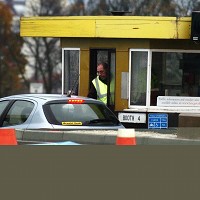 The Institution of Civil Engineers Scotland is calling for the introduction of tolls on the nation's roads.
The organisation is urging the Scottish Government to consider the idea to help fund a £2 billion backlog of road repairs.
About a third of local roads are in an unacceptable state, with problems such as potholes hindering motorists, according to the latest review of the country's infrastructure.
The report says that if action is not taken to address the declining state of the nation's roads, improvements made by major investment in projects such as the Queensferry Crossing and Borders Railway could be undermined.
At the moment it is costing an estimated £245.5 million a year to prevent further deterioration, according to the institution.
It recommends introducing a progressive system of road-user charging to "help meet the financial demands of constructing and maintaining good-quality roads infrastructure".
The institution, which has 8,000 members in Scotland, suggests revenue could be collected through direct charging, either as a flat fee or on a pay-as-you-go basis.
A Scottish Government spokesman welcomed the report, saying it values input from the organisation's members, but stressed that there are no plans to introduce road toll charging now or at any time in the future.
Copyright Press Association 2015