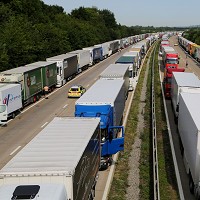 Tighter security is needed in and around Calais to help keep drivers safe from migrants attempting to reach the UK, the Road Haulage Association (RHA) is warning.
Its chief executive says it is feared that if unrest flares up again the lives of drivers could be put at risk, unless security measures are improved.
The organisation, which has established a 24-hour presence at the port to provide information about the latest migrant activity, says the extra fencing put up at Calais may just result in migrants attempting to embark on the final leg of their journey from elsewhere.
It says the security measures need to be boosted throughout the wider Calais area, adding that a failure to do so will result in UK-bound lorries being targeted and their drivers intimidated on out-of-town approach roads.
The trade organisation says it believes the security beef-up needs to be implemented by the French military.
Richard Burnett, chief executive of the RHA, says that while the situation currently seems to have quietened down, the organisation believes the respite will be short-lived.
He adds that the organisation has been told by drivers that they still fear being threatened and believe there will be more unrest.
Copyright Press Association 2015