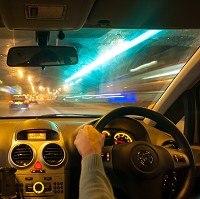 Children should be taught about traffic and road safety in schools in order to cut down on the number of deaths and injuries on Britain's roads, a charity says.
The Institute of Advanced Motorists (IAM) is calling for traffic education to be made a compulsory part of the national curriculum.
It wants the UK to follow the lead of Italy, Poland, Germany, the Czech Republic and Latvia, where it is mandatory to learn about traffic and road safety.
Instead, schools in Britain only teach road safety skills on a voluntary basis.
The IAM sees having road safety enshrined in the national curriculum as a way of achieving one of its central goals, which is to reduce young driver risks.
The charity's director of policy and research, Neil Greig, says the only way road safety will become part of a young person's thinking is if it is on the curriculum, adding that teachers will not have to teach it otherwise.
RAC spokesman Simon Williams said: "Awareness and education among young drivers is a vital element in the effort to bring down accidents on our roads, and being able to reach them while still at school would seem to make a lot of sense.
"In 2014, the RAC launched its road safety campaign aimed at increasing awareness among school children of the dangers on the road, but more education for when they get behind the wheel themselves would be extremely valuable.
"According to the research for our Report on Motoring in 2014, 10% of motorists do not believe there is enough awareness of road safety among young drivers, so any initiative that addresses this would be welcome."
Copyright Press Association 2015