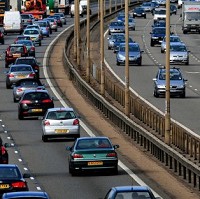 British commuters spend more than a year of their lives sitting in traffic jams, according to new research.
They spend on average 68 minutes per day - or more than a year and 88 days over a working life - stuck in traffic, a study of 50 office workers by LHDCarSupermarket revealed.
"I know that on a good day I can get to work in 20 minutes, however those instances are few and far between," said one man who took part in the study.
"Most days I can expect to spend at least an hour-and-a-half in the car and for the majority of that time I'm moving very slowly."
The findings might send a shudder down the spines of commuters across the country - and perhaps underline the importance of using an accuratejourney planner to take the quickest route every morning and night.
It is suggested in the study that the average commuter could have travelled to Mars and be on their return journey in the time they spent stuck in traffic across the course of their career.
Copyright © Press Association 2013