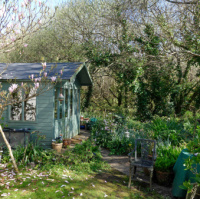 Britons use their garden sheds to store nearly £15 billion worth of property, a new poll has revealed.
Everything from lawnmowers to pressure washers are kept in the 15.2 million sheds found in the UK, the survey of 2,000 people suggests.
On average, each shed in the country contains an average of £983 worth of property - or £14.9bn overall - with some of the most common items including garden tools, lawnmowers, bikes and barbecues.
The findings have prompted RAC Home Insurance, which carried out the survey, to warn homeowners of the need to be wary of falling victim to thieves.
Despite the fact that one in 10 sheds is protected by alarm systems, around 6% have been broken into, with thieves making off with an estimated £272m worth of goods.
Thieves have also targeted gardens themselves, stealing an average of £547m, including gas heaters, benches, ornamental water features and even Koi carp.
RAC Insurance director Mark Godfrey said: "It's clear that the humble garden shed has moved on from being a mere storage facility to an area of recreation dramatically different from a place to sip sherry in the 1970s.
"Although some people have taken steps to ensure their sheds are well secured it's worrying that so much valuable property is only being secured by a simple padlock, and that as many as 12% of sheds are being left completely unsecured.
"As sheds have clearly taken on greater significance in people's lives, being used for overflow storage and even somewhere to work or somewhere to escape the hustle and bustle of everyday life, they really need to be properly protected and insured as they will no doubt increasingly become targets for thieves."
Copyright Press Association 2016. Motoring News articles do not reflect the RAC's views unless clearly stated.