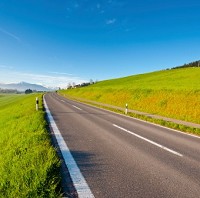 Britons would rather drive while abroad than at home due to the better state of the roads on the continent, research reveals.
The RAC has found that the UK rates just 24th when it comes to the quality of its highways - behind countries such as France, Spain and Portugal - with the pothole situation of particular annoyance to drivers.
Just over four fifths (84%) of Brits behind the wheel think the overall condition of roads on home soil is getting worse, while three quarters (75%) reckon motorways up and down the country are noticeably worse.
Less congestion and cheaper fuel are two of the other main reasons why roads in continental Europe are held in such high regard, according to the study, but it is the lack of potholes that proves the favourite element.
RAC technical director David Bizley said the road network in the UK has much to live up to.
'With continental Europe right on our doorstep it's understandable that so many of us pack up the car and head overseas to explore every year taking an average of 15 hours to get to their destination," he comments.
'It is, however, surprising that the quality of European roads has such a dramatic impact on the overall enjoyment of the driving experience abroad. It proves the UK's road network has much to live up to, particularly compared to countries such as France which has built more than 2,700 miles of new motorway since 1990 - more than the entire UK motorway network put together.'
As many as 4.2 million Brits drive to Europe each year - owing to the fact that it is now easier than ever to board a ferry and head to the continent by car, plus European breakdown cover is easily accessible for peace of mind
Copyright Press Association 2014