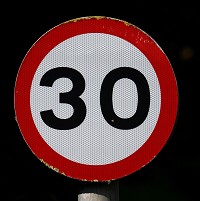 A company boss has been fined £1,000 after a foul-mouthed rant at police in front of shocked school pupils.
Andrew Priest, 39, received the fine and order to pay £1,000 costs after being convicted of speeding and using threatening behaviour.
Nine children from Gorsey Bank Primary School in Wilmslow, Cheshire, had been helping community officers carry out speed checks as part of a class project.
But when Priest's Audi A3 was clocked doing 37mph in the 30mph zone outside the school gates he did a wheelspin into the school park before reacting angrily to the police and a classroom assistant.
He is said to have gesticulated angrily at the staff member and told a PCSO: "It's a +++++++ joke. You're PCSOs and not even proper pigs. Go and stop some more innocent people."
When a police officer later told him he would have to pay a £60 fixed penalty speeding ticket, he is said to have boasted: "I earn £80,000 a year so I can afford the ticket."
Accumulating speeding tickets can have an impact on motorists'car insurance premiums.
Copyright Press Association 2013