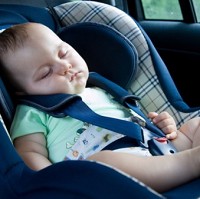 Mums and dads are driving more than 1,000 miles a year in a bid to get their children to sleep.
That's according to new research from Mothercare, which suggests that the average parent drives 1,300 miles a year just to help their youngsters nod off.
It's estimated that these extra journeys cost parents £547 in fuel each year. More than half of parents admitted that they used their car to help their kids sleep, with new dads spending the most time behind the wheel.
According to the study, fathers drive an average of 1,827 in the first year of their child's life, compared with the 860 miles driven by mums.
An average bedtimejourney planner involves a route which is around half an hour long, with most people setting off at around 9pm. Parents from London drive the furthest distance a year, at 2,957 miles, the poll found.
After finding out that new parents spend so much time on the road, researchers at Mothercare decided to give them a helping hand. Seventeen-month-old Zara Karim and her parents, from London, were recruited to test-drive a range of car seats to find out which was most likely to help little ones sleep.
The eventual winner was the Malmo Highback Booster, which helped Zara nod off in less than 11 minutes. A video of the three best-performing seats has been posted on YouTube.
Copyright Press Association 2012