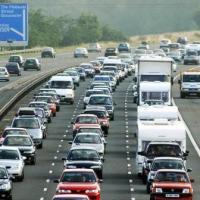 Millions of motorists are set to hit the road over the bank holiday weekend, prompting a warning from the RAC for drivers to expect heavy traffic.
A survey commissioned by the motoring organisation suggests just over 20 million drivers will be using the roads for leisure trips between Friday and Monday with up to 8.4 million expected on Saturday alone.
The RAC believes this year's May Day weekend is likely to see nine million more cars on the road than last year's as a result of many people having put off their spring breaks because Easter fell earlier than normal.
Midday on Saturday is predicted to be the peak time for congestion with the worst traffic blackpots forecast to include the M5 between Bristol and Taunton and the A30 and A38 into Cornwall as motorists head for the West Country.
Other roads where motorists could face hold-ups include the M53 between Liverpool and Chester and the A14 between the Midlands and Suffolk.
RAC spokesman Simon Williams says those heading off for day trips or short breaks will be paying an average of 7p a litre less for their fuel than they were a year ago.
Commenting on the predicted traffic volumes, Mr Williams adds: "The number of people who plan to use their cars for leisure trips, whether that's visiting family and friends or enjoying a day out or some time away, is far greater this year than last.
"We think it can only be a hangover effect from Easter falling in late March when perhaps people didn't drive as much as they would have had it been April when the weather would have been a little warmer.
"Now the clocks have gone forward and we've already had a feel of warmer weather there's every reason to head for the traditional weekend getaway spots in the hope of being able to enjoy some fun in the sun."
The provides up-to-date information and roadworks, incidents and the weather. Alternatively motorists can plan their journeys by downloading the free RAC App for iPhones or Android smartphones.
Copyright Press Association 2016. Motoring News articles do not reflect the RAC's views unless clearly stated.