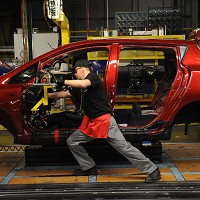 Car production in the UK has surpassed half a million, continuing the upward trend seen in recent years.
Figures released by the Society of Motor Manufacturers and Traders (SMMT) suggest manufacturers are keen to meet the demands of drivers, who are eager to get behind the wheel of the latest models.
But total production levels for the first four months of this year are slightly down on the same period in 2014.
Production for the home market jumped by 19.4%, while production for export dipped by 7.0%. Total production for April alone reached 128,312, yet this was down by 3.8% year-on-year.
Despite the fall in production at the beginning of the year, SMMT chief executive Mike Hawes says output is still on track to reach record levels in the next few years provided global markets continue to perform well.
He claims manufacturers are poised to see further growth following a series of multi-billion pound investments.
As drivers continue to splash the cash on the latest models, older ones flood the used car market .
The automotive industry plays an important role in the UK economy, accounting for more than £64 billion turnover and £12 billion value added.
It makes up 11% of total UK export of goods and invests £1.9 billion each year in automotive research and development, employing over 770,000 people in areas from manufacturing to dealerships.
More than 30 manufacturers build in excess of 70 models of vehicle in the UK, supported by around 2,500 component providers and thousands of skilled engineers, making it a major player on the world stage.
The Automotive Council and Automotive Industrial Strategy have contributed to this success - and the SMMT expects the level of support received from the previous coalition government to continue under the new Conservative government.
Copyright Press Association 2015