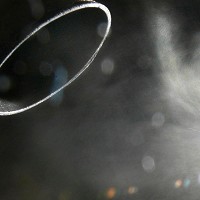 The Department for Environment, Food and Rural Affairs (Defra) says air pollution hit dangerous levels on Wednesday.
It was the hottest July day on record in the UK, with the mercury topping 36.7C (98F), resulting in moderate pollution across most of England.
Dangerously high levels were measured in Eastern England, the East Midlands and the South East, while levels in the West Midlands were also high.
The reading of 36.7C (98F) was recorded at Heathrow, breaking the previous record that was set in 2006.
Heatwave-related breakdowns were a common sight across the country, as the RAC reported .
And motorists travelling on the M1 in Derbyshire faced long delays, when the road was closed in both directions after a lorry carrying batteries burst into flames.
More problems are expected on the roads in the coming days as the warm temperatures stick around.
Defra, meanwhile, is warning people vulnerable to the effects of pollution to be cautious.
It says individuals with lung disease, children, the elderly and those who are active outdoors may be particularly sensitive to ozone and may begin to notice respiratory symptoms, such as coughing and throat irritation.
Those with asthma could also be affected. Defra adds that exposure to ozone can be reduced by avoiding being outdoors during the afternoon, whether walking about or in a car, as this is the time of day when ozone levels are at their highest.
Moderate levels of pollution are predicted to remain throughout Thursday and Friday, before eventually subsiding over the weekend. Thunderstorms and torrential downpours could lower levels quicker.
Copyright Press Association 2015