Plans to expand the smart motorway network are being paused until five years' worth of data has been collected to assess whether the roads are safe for drivers.
The Department for Transport (DfT) has announced it will delay the rollout of all-lane-running motorways where the hard shoulder is used as a permanent live traffic lane.
Ministers have also pledged to improve safety on existing all-lane-running motorways, although there are no plans to reinstate the hard shoulder.
Using the hard shoulder as a live lane improves traffic flow, but critics say it has contributed to fatal incidents involving broken-down vehicles being hit from behind.
The decision to pause the smart motorway rollout comes on the back of a recommendation by the Commons Transport Select Committee. It said there was not enough safety and economic data to justify continuing with the project.
RAC head of roads policy Nicholas Lyes welcomed the news, saying: "This watershed decision is an unqualified victory for drivers, many of whom have deeply-held concerns over the safety of motorways where the hard shoulder is permanently removed.
"Rather than ploughing on regardless in the face of mounting public opposition, we're pleased the Government has finally hit the pause button and given itself time to fully consider the safety of these schemes, and the way our motorways are adapted to increase capacity from now on.
"We have long argued that dynamic hard shoulder and controlled motorway schemes – both of which feature a hard shoulder in some form – should be considered given their good safety record and it's important these options are on the table."
The DfT has pledged £900 million to upgrade existing smart motorways, including £390 million to install extra emergency refuge areas. This should see around a 50% increase in the number of places for motorists to stop if they get into difficulty.
Mr Lyes continued: "A further commitment to install an additional 150 refuge areas on existing schemes to bring them all up to the same standard is positive news and should go some way towards reassuring drivers worried about reaching one in an emergency.
"The safety of our motorway network is paramount, and no policy decisions should ever risk making our fastest roads less safe.
"Today's decision to review a full five years of all the safety data and to look at all possible options with a fresh perspective should ensure our motorways can accommodate increased traffic volumes safely and – just as importantly – that the drivers using them feel safe doing so."
Carriageways that won't now be turned into all-lane-running motorways, pending the five-year safety data review, include the M3 J9–14, the M40/M42 interchange, the M62 J20–25 and the M25 J10–16.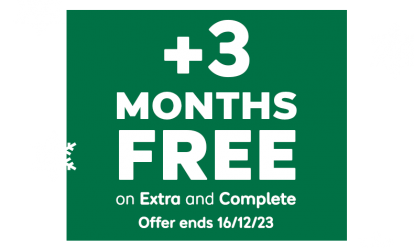 With 12 months of cover, new customers get an extra 3 months for free*.
*Added after 12 months, excludes Basic cover. New customers only. Ends 16/12/23, 7am