Drivers are having to fork out a massive 20p per litre more for diesel than petrol despite there being little difference between the two fuels on the wholesale market,
RAC Fuel Watch
pricing analysis shows.
The wholesale price of diesel was just 6p more than petrol last week (121.06p compared to 115.48p), leaving drivers of diesel vehicles having to pay 168p a litre, compared to just 148p for unleaded.
The RAC calculates that if diesel was being sold at a fairer rate drivers would be paying no more than around 155p per litre, which would make the cost of filling an average 55-litre family car £7 less than it is today (£85.25, compared to the current £92.40).
RAC analysis shows retailers are currently taking more than double the margin on every litre of diesel they sell – just shy of a whopping 20p – compared to the 8.5p on unleaded, in effect subsiding petrol prices by charging more for diesel.
The RAC is calling on retailers to urgently cut the price of diesel to fairer levels, following the lead of membership-only retailer Costco which this week lopped 4p off diesel at its sites across the UK, meaning it is now charging an average of 154.7p – 13p less than the UK average and 11.5p less than the average at the UK's big four supermarkets.
RAC fuel spokesman Simon Williams said: "While our data shows petrol is generally being sold at a fair price at forecourts at the moment, drivers of the country's 12m diesel cars* – as well as almost every white van driver – have every right to feel hard done by as they're paying a huge premium for the fuel which in no way reflects its lower wholesale cost.
"For nearly a month, the gap between wholesale petrol and diesel prices has been less than 10p a litre and in recent days it has reduced to just 3.5p, yet average diesel prices at the pumps remain stubbornly high having fallen by only 2p since the start of February. The fact membership-only retailer Costco has been able to cut the average price of a litre of diesel by a massive 4p this week shows what's possible, but we badly need other fuel retailers to treat drivers of diesel vehicles fairly.
"Even though the price of diesel is not being cut as quickly as it should be, the gap between the average prices of petrol and diesel has dropped to under 20p (19.99p) for the first time since 10 October 2022. If retailers now do the right thing this should reduce significantly, saving drivers who rely on diesel a lot of money every time they fill up."
What more can be done to lower the price of fuel in the UK? With the Spring Budget fast approaching, what announcements are you expecting? Leave your comments below.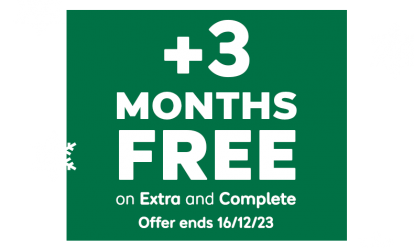 With 12 months of cover, new customers get an extra 3 months for free*.
*Added after 12 months, excludes Basic cover. New customers only. Ends 16/12/23, 7am