A Swedish company has developed a new flatpack and ultra-sustainable
electric car
– and the UK is set to be one of the first nations to see them out on the roads.
Luvly, a Stockholm-based technology company, has developed these light urban vehicles (LUVs) with the aim of creating affordable access to ethical, safe passenger and cargo transport options.
The aim is to democratise the benefits of a plug-in car with vehicles that are more practical, affordable, and efficient, as well as safer for pedestrians and other drivers than traditional family cars and SUVs.
A unique flatpack solution enables assembly close to the end-user – drawing comparisons to fellow Swedish company IKEA – this means that if a driver purchases a Luvly vehicle, they will be reducing the carbon emissions and cost of shipping.
Targeted at those living in major towns and cities, the vehicle is the fifth of the weight of a typical electric car and comes with a portable battery that can be charged at your home or place of work.
The 'Luvly O' could be seen on UK roads by the end of 2023.
The two-seater will come with a range of around 61 miles, and a top speed of 56mph. Excluding batteries, the total weight of the vehicle is less than 400kgs.
Designed with Koenigsegg hypercar alumnus Joachim Nordwall, it will be powered by two removable batteries – all for the cost of around £8,600.
Håkan Lutz, CEO and Founder of Luvly, commented: "Luvly was founded on the belief that the negative aspects of cars - environmental harm, cost, danger to pedestrians and other road-users, space inefficiency - can be mitigated by combining modern technological solutions with futuristic design.
"Our light urban vehicles emphasise the values of positive communal living: consideration, temperance, and taking responsibility not just for yourself, not even just for your children, but also for your neighbour.
"In many markets, consumers are ready to eschew expensive, polluting, dangerous cars in favour of more fit-for-purpose solutions.
"With our combination of patented tech innovation and sophisticated licensing and logistics structures, we believe Luvly is poised to become a world-leader in the urban transport of the decades ahead."
What are Light Urban Vehicles (LUVs)?
LUVs are vehicles for up to four people or last-mile goods transport, optimised for city and commuter traffic with significant environmental, space, efficiency, and adaptability advantages over cars.
This type of vehicle typically requires less energy and cost to run and produce than a plug-in car.
According to Luvly, when compared with electric cars, energy consumption from LUV production, shipping, and distribution is up to 80% lower.
Would you be interested in swapping your car for an LUV? Do you think these would be a good addition to our roads? Leave your comments below.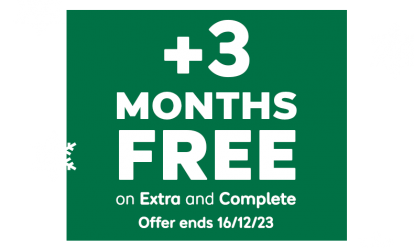 With 12 months of cover, new customers get an extra 3 months for free*.
*Added after 12 months, excludes Basic cover. New customers only. Ends 16/12/23, 7am