Every year, many of the largest brands in the world showcase their latest innovations at CES – 'the most influential tech event in the world' – and this year was no different.
Taking place in Las Vegas, some of the largest automotive giants shared their latest tech to the hundreds of thousands of visitors.
Here, we profile the highlights from this year's show – and how they could be coming to your next new vehicle.
Sony and Honda launch new car brand
Global electronics firm Sony and Honda have revealed new plans for the future of electric vehicles.
They have combined to create Sony Honda Mobility Inc, and at CES they unveiled their new Afeela brand.
The partnership will create a prototype, which will then lead into a production model and pre-orders in 2025 – with deliveries expected in North America in 2026. They will then hope to expand into other markets.
Sony Honda Mobility CEO Yasuhide Mizuno, commented: "At the heart of this mobility experience is a lot of feel. Afeela represents our concept of an inter-vehicle relationship - where people feel the sensation of mobility by utilising sensing and AI technologies. We will evolve and develop driving dynamics and performance but also software, networks and interfaces."
The brand will further focus on its 'Three As' – autonomy, augmentation and affinity.
Autonomy will mean that drivers can take their hands off the steering wheel in limited environments and augmentation will focus on including more entertainment through virtual reality technology.
Affinity will mean an 'interactive mobility society' to help with aftersales once a customer has purchased one of these vehicles. This will include a media bar, where live information will be provided to the driver and passengers.
New Peugeot Inception concept launched
French manufacture Peugeot – part of the Stellantis group – revealed its new, futuristic 'STLA Large' electric vehicle.
As the name suggests, this is a new EV that is five metres long, and has an impressive range of almost 500 miles, with 670bhp and a 0-60mph time of less than three seconds.
With new functions which will become a part of the brand's future production vehicles, this a new step for the company.
Its innovations include 'smart glazing' a new type of windscreen that has improved thermal properties, a tech bar which displays messages about the cars surroundings and artificial intelligence which can set up a driver's seat position, optimum temperature, and multimedia preferences.
However, its most eye-catching introduction is the company's iCockpit set up.
This rectangular steering wheel includes 'Hyperspace' technology where each corner includes touch sensitive panels with digital electronic controls for different part of the vehicle. This will be common in all vehicles from 2026.
Heated seats for next gen EVs
Tech firm ZF revealed its new heated seat belt technology for electric vehicles.
EVs have historically struggled in colder temperatures when it comes to range and battery efficiency. ZF claim that their heated seat belts have helped tackle this problem.
These will help reduce wasting energy heating up the EV and could increase range by up to 15% by reducing the need for cabin air heaters.
They will be able to heat up to 40 degrees Celsius and won't compromise on safety.
BMW's colour changing car and VR windscreen
As well as the latest in technology, CES has become known for its celebrity involvement for the bigger brands.
Actor Arnold Schwarzenegger helped launch BMW's latest CES presentation – their new AI-inspired robotic vehicle.
The new colour-changing i Vision Dee is an electric powered sports saloon that can switch its outside and patterns using 32 different colours.
The German manufacturer stated that it was the 'next level of human-machine interaction'.
BMW CEO Oliver Zipse said: "With the i Vision Dee, we are showcasing what is possible when hardware and software merge."
Pick-up truck revolution
Although primarily focused on the North American market, pick-up trucks have made the least progress when it comes to making the switch to electric.
However, Stellantis' commercial vehicle brand, RAM, is looking to change this.
They have announced a new range of EV alternatives that are set to be put into production next year.
Could flying cars finally be coming to the UK?
From science fiction to a real alternative for modern travel – flying cars have been discussed for decades. But at this year's CES, there were many companies looking at launching the first commercially available flying car.
One brand that caught the eye of those in attendance was the ASKA A5 – an SUV sized car that its creators say can travel around 400km by road and air on a single charge.
When the vehicle enters its 'flying mode', six wings expand from the roof, and it can take off vertically.
They announced that tests were underway.
Solar power Squad
A growing problem – especially in the UK – is the charging infrastructure for electric vehicles.
However, Dutch tech firm has developed an innovative way of tackling this issue.
Squad Mobility claims to have created the world's first solar powered city car and expects its first production vehicles to be available next year.
The vehicle is charged via its integrated solar panel roof, and it will not need to be plugged in to recharge.
In the Las Vegas sun it was able to gain a charge for up to 31km – but in the UK, this may take slightly longer during the majority of the year.
Are you ready for your own Carpool Karaoke?
Introducing 'The Singing Machine'.
We've all done it – sing out loud while driving like no one is watching. But now company Stingray have created an integrated software where passengers can use their smartphones to read the lyrics and use the microphone provided to sing from a choice of over 100,000 songs (and available in 25 languages).
Gary Atkinson, CEO of Singing Machine, said: "We're thrilled to be working with our long-time strategic partner, Stingray, to create the world's first in-vehicle karaoke solution for the global market.
"This launch represents a key shift in our product strategy, offering auto manufacturers a chance to integrate a new immersive karaoke experience within their product line-up."
Underground tunnels for EVs
Elon Musk, founder of Tesla, introduced a transport system in the city of Las Vegas during CES – where Tesla taxis drove under the city in order to cut out traffic.
The eccentric billionaire created this idea after he tweeted about being sick of traffic. Seven years after this tweet – he created a 1.7 mile long underground road called the LVCC Loop.
Although the trip was free for all during the convention – should this idea take off, there may be a cost to passengers.
Which one of these innovations has caught your eye? Will they be a good addition to the motoring world, or will they be forgotten? Leave your comments below.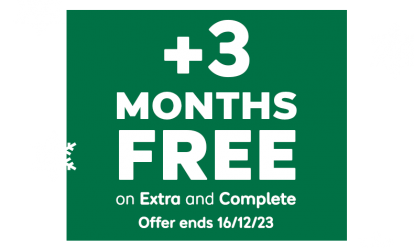 With 12 months of cover, new customers get an extra 3 months for free*.
*Added after 12 months, excludes Basic cover. New customers only. Ends 16/12/23, 7am