Is Elon Musk steering us into the future? Down memory lane? Or into a road-safety minefield?
Tesla have revealed a redesigned Model X and Model S sporting a new 'steering yoke', a half steering wheel/rectangle that's polarising the internet and automotive industry.
Described as "the ultimate focus on driving", naysayers have quipped whether they would need to pay more money for the rest of the wheel.
While debates ensue about the look of the aeroplane-style steering yoke, serious questions have been raised about the safety of the design.
The retro-futuristic controls remove a large section of the steering wheel and could leave drivers grabbing at thin air during an emergency.
Some supporters pointed out that the controls won't be necessary when Tesla's fully automated self-driving tech is permitted on the roads.
Car reviewers have even pondered whether the new-look yoke is part of a larger money-saving plan.
Self-confessed 'lover of 4-wheeled esoterica', Chris Paukert tweeted: "My inner child is pumped about the Model S' yoke-like wheel, but adult car reviewer me knows it's an ergonomic disaster (as is the turn-signal stalk delete).
@Tesla is fixing things that aren't broken just to seem more futuristic/gain minor cost savings."
Speculation has also arisen as to whether the yoke will meet design regulations in the UK.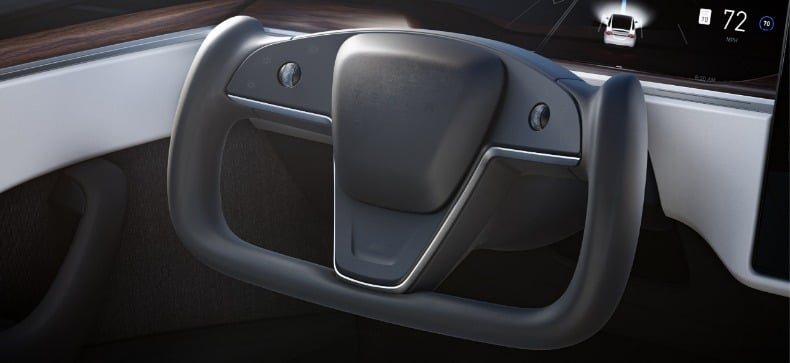 For some critics, the design reveals that Tesla is under increasing pressure to innovate. Edward Niedermeyer, communications director at Automated Vehicle Education, said: "This company is all out of ideas, and can only double down on a hollow 'futurist' aesthetic at the expense of actual UX [user experience]."
The electric vehicle brand's preference for breaking the rules has proven to be a successful formula so far. It's now the most valuable car maker in the world, valued at more than $800bn (£586bn).
The manufacturer's stock has surged by 700% in the past 12 months, and sales have cemented CEO Elon Musk's position as the second richest man in the world.
Unconventional controls have been a common fixture in car design through the ages. The 1980s' Mazda MX-03 featured a similar yoke to the Tesla – like Hollywood at the time, the concept car appeared to be inspired by fighter planes.
In 1965 Ford released its 'Wrist Twist' steering controls, with two dials operated by touch offering early power steering.
German aircraft manufacturers Messerschmitt seemed to lift the controls from their planes for the KR200 car launched in 1955, the distinctive white steering controls resembled bicycle handlebars rather than a typical wheel.
Let us know what you think of the steering yoke in the comments below.
Breakdown cover from just £7.95 a month*. Plus up to £150 of driving savings!