Thousands of drivers across the country, including the RAC driver panel, have taken part in a nationwide idling survey with Idling Action, highlighting the issues with idling and investigating what can be done to convince drivers to switch off. The report launches today, on National Clean Air Day - the UK's largest day of action to tackle air pollution.
One of the findings of the research was that 5-10% of drivers surveyed have stop-start technology, but have decided to disable it, with the most common reasons being that they worry it might wear out the battery, or that they find it annoying.
When enabled, stop-start technology reduces vehicle emissions and fuel use by switching off the engine when stationary. Leaving stop-start technology enabled could therefore save drivers fuel and money, whilst also reducing air pollution.
Nicholas Lyes of the RAC says: "Idling your engine wastes fuel, money and means you are unnecessarily emitting air pollutants. If your car has stop-start technology we strongly recommend you use it to help cut down on harmful emissions. Drivers shouldn't worry about start-stop as modern car batteries are designed to be switched on and off regularly and generally only engage the technology once the engine has been running for a while anyway.
"Those with older cars without the technology should consider also manually switching their engines off when stationary for extended periods to help protect the health of those around them."
The research also found that 78% of respondents usually or always switch off the engine when parked or pulled over, however this leaves 22% of drivers who admit to regularly idling their engines.
According to the survey results, the most compelling reasons to switch off the engine when stationary are that:
Switching off engines when parked is better for the health of those who live, work and go to school on that street;
and Idling wastes fuel and money.
Idling Action's 2020 research study with Transport Research Laboratory found that if a vehicle idles for 10 minutes per day, within 6 months that would equate to a cost of over £58. With the recent increases in fuel prices, the cost would be even greater today.1
The research would therefore suggest that a simple way for drivers to save fuel and money is to enable stop-start technology if you have it, and if you don't, to ensure you always switch off when stationary and it is safe to do so.
The surveys were conducted by CWC Environmental for Idling Action London which is jointly led by City of London Corporation and Camden Council. It is a Mayor of London Air Quality Fund project that saw 30 local authorities and City of London Corporation working together to tackle engine idling as a source of avoidable air pollution. The research will be used by the local authorities to help tackle the issue of idling.2
Air pollution, including vehicle engine idling emissions, has adverse effects on everyone's health, and is linked to 28,000 deaths in the UK each year. A Simple action to make an instant difference is remembering to switch engines off wherever safe and possible to do so, and also leaving the car at home and walking or cycling short journeys instead.
Idling Action's 2020 research study with Transport Research Laboratory found that:
it can cost up to 3p for every minute spent idling
if that vehicle idled for 10 minutes per day, within 6 months that would equate to a cost of over £58
idling for just 30 seconds produces twice as much pollution and wastes more fuel than switching off and restarting your engine.
(these costs are likely to be even higher now with the recent petrol price increases)
More About Idling Action
Idling Action London has been running since 2016 and has grown year upon year. It focusses on education, research and targeted behaviour change campaigns for schools, businesses, local authorities and community groups to raise awareness about idling and the health impacts of air pollution.
For more information about how to get involved, head to www.idlingaction.london.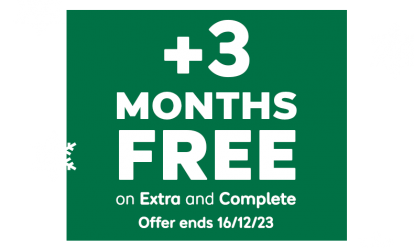 With 12 months of cover, new customers get an extra 3 months for free*.
*Added after 12 months, excludes Basic cover. New customers only. Ends 16/12/23, 7am