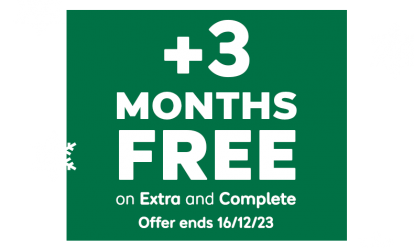 With 12 months of cover, new customers get an extra 3 months for free*.
*Added after 12 months, excludes Basic cover. New customers only. Ends 16/12/23, 7am.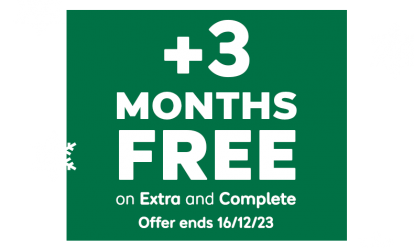 Volvo's V90 Cross Country model gives family-minded executive buyers who live out in the sticks a version of this large Swedish estate they might like. Jonathan Crouch reports on the latest version.
Ten Second Review
Volvo's V90 Cross Country offers a more conventional, less showy alternative to that luxury SUV you might have been considering. AWD is standard of course, as is a higher ride height and a wider track. It won't get you across the Serengeti but it'll be just as capable as any luxury SUV in a snowy snap.
Background
Not everyone wants a luxury SUV. Not even luxury SUV buyers. Volvo knows this of course, the Swedish brand being a major player in this market with its strong-selling XC90 model. Hence the company's decision to offer a more conventional alternative to buyers in this sector in the form of this V90 Cross Country variant.
As you can see, this essentially is a raised version of the V90 estate with a few rugged-ised styling modifications, but you do get AWD, a feature not available with many mild hybrid variants in the standard range. And there's as much winter driving capability as you'll probably ever need. Plus, as you'd want, it remains as Swedish as meatballs and as practical as ever. The prospects then, are promising.
Driving Experience
On paper, this V90 Cross Country should feel just like any ordinary V90 estate to drive. In practice though, it feels a little softer and more supple, though you can expect a touch more bodyroll, courtesy of the extra ride height. Ultimately, it's the kind of feel you'd get from a luxury SUV, which is presumably what Volvo was aiming at. On that subject, we should point out that AWD is standard. That might sound an obvious thing to say in relation to a car like this but the old Volvo XC70 model that this model effectively replaced was available in 2WD guise.
Engine-wise, just as in mainstream versions of the standard V90, buyers get a four cylinder mild hybrid diesel unit, a 235hp B5 powerplant mated to smooth 8-speed auto transmission. There's also a mild hybrid petrol option, a 250hp B5 unit. On the move, you aren't served up anything that encourages much driving involvement - blame the rather vague steering for that - but in compensation, there's unruffled poise and exemplary refinement. You get supple standards of ride comfort from the soft suspension too and there's the option of rear air suspension if you want it. A standard 'Drive Mode Settings' driving dynamics system allows you to tailor throttle response, steering feel and auto gearshift timings to suit the way you want to drive. And if you do push on a bit, grip and traction are actually quite impressive.
Design and Build
You'll recognise this Cross Country derivative from standard V90 models by its black plastic wheel arch extensions, blacked out trim pieces and front and rear titanium skid plates. Body-coloured alternatives are available if you don't want to stand out. Look a little closer and you might spot that the ride height of this variant has been raised by 65mm, plus the front track has been widened by 20mm and the rear by 40mm. In addition, the specially designed tyres are 42mm larger in diameter. In short, this is more than just an exercise in rugged styling. Visual updates with this revised model are minor - new fog lights, a fresh spoiler design and a new lower front bumper. At the back, there's a brand-new rear light design, including full LED-powered signature lighting and a sequential turn indicator.
Inside, things are exactly as they would be in any normal V90 estate. Which means you get beautiful cabin finishing and plenty of leather, classy wood and glass. As with the XC90 luxury SUV, the dash features a massive tablet-like touch screen that plays a key role in creating an interior that is modern, spacious and uncluttered. Changes made to this updated model are minor. You can now specify seats with an exclusive tailored wool blend, there's an improved version of the premium Bowers & Wilkins surround sound system and there are now double USB-C charging points in the rear. In the cargo area, there's up 1526-litres of bootspace (including underfloor storage). That's a useful figure, though is a little bit less than you'd get with rival BMW 5 Series Touring and Mercedes E-Class estate competitors. That's probably down to the stylish sloping rear glass.
Market and Model
You'll need a budget starting from just under £56,500 for this V90 in Cross Country spec. All variants come with AWD and auto transmission. There are two trim levels, 'Plus' and 'Ultimate'. Going for a Cross Country V90 gives you a bodykit with silver front and rear skidplates, wheelarch extensions and charcoal-coloured mouldings for the lower sills and side doors. With this variant, you also get larger 19-inch 5 V-Spoke alloy wheels, larger door mirrors and unique upholstery stitching.
V90 safety gear includes a run off-road protection package which tightens seatbelts and activates energy-absorbing technology in the seats when the car detects challenging terrain ahead. Another system is the auto-braking feature, which cuts in if a driver pulls out in front of oncoming traffic. Plus at its launch, the V90 also introduced a world-first - large animal detection - a system capable of detecting large animals such as elk, horses or moose, night or day. All these safety systems aim to bring Volvo closer to its vision of nobody being seriously injured or killed in any of its vehicles.
Cost of Ownership
There's no really significant WLTP efficiency penalty for opting for this Cross Country variant. With the B5 diesel most V90 Cross Country buyers will choose, expect up to 44.8mpg on the combined cycle and 165g/km of CO2. Inevitably, these figures take a tumble in the B5 petrol variant; there, you're looking at up to 36.2mpg and 177g/km.
What else? Residual values? They're key in this segment of course and you'd expect those of a big, relatively expensive Volvo luxury large estate to lag severely behind the kind of figures you could realise in a rival BMW or Mercedes. You'd be wrong though. The V90 has turned around Volvo's performance in the Executive sector when it comes to depreciation. To the point where independent experts reckon that after owning a typical B4 model for the usual three year/60,000 mile ownership period, you'd get between 39 and 41% of your original purchase price back, depending in the trim level chosen. That's pretty close to the kind of return you'd get from a rival Mercedes E-Class Estate.
Summary
Here, Volvo has delivered a very good compromise between on and off road ability which would probably suit a lot of luxury SUV buyers - if only they could be persuaded to try it. The Swedish maker's latest 'Scalable Product Architecture' has delivered to the brand a platform for a really credible luxury line-up these days and this model is yet another example of it.
It's certainly true that this car's driving experience could be a little more involving. The Swedish engineers particularly need to learn from brands like Jaguar and BMW when it comes to steering feel for example. Having said that though, a more laid back, luxurious cosseting feel is all part of this car's appeal. It should feel different - in the way that it does.