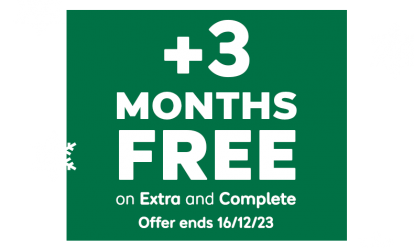 With 12 months of cover, new customers get an extra 3 months for free*.
*Added after 12 months, excludes Basic cover. New customers only. Ends 16/12/23, 7am.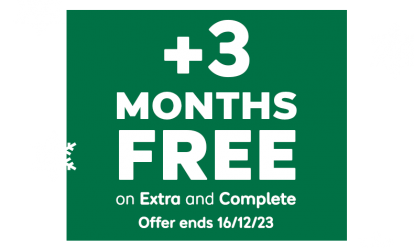 Few need a really fast Volkswagen Tiguan but those who do will love this fast R model, thinks Jonathan Crouch
Ten Second Review
The Tiguan R enters uncharted waters for this previously conservative mid-sized family SUV. Are there really people who might want to get to 62mph in 4.9s in a Tiguan? If there are, then they'll very much like this pricey high performance version. But the competition at this kind of price and performance level is extremely tough.
Background
So here's the deal. You've always promised yourself a Volkswagen Golf R (or perhaps any uber-fast hot hatch) but for various very understandable reasons, time has passed and it hasn't happened. And now a growing family's come along - one for whom a compact hatch just isn't big enough - so it's too late. Or is it? Volkswagen says not. All the good bits of a Golf R have been shoehorned into this car, the brand's Tiguan R, a family SUV on steroids.
Volkswagen has brought us steroidal fast SUVs before - we had a particular affection for the 5.0-litre twin turbo diesel-powered R50 Touareg model of 2008 - but this extremely cross crossover is a good deal more accessible. Or at least it would be if it wasn't for an asking fee that demands the best part of £50,000 from you. Still, that's a good deal less than the cost of a Porsche Macan Turbo, the performance of which Volkswagen says this Tiguan can match.
Driving Experience
Part of the reason it's taken so long for Volkswagen to bring us an 'R' version of this Tiguan is because there was never really much of a demand for a high performance version of this model. Arguably, there still isn't but there's enough demand for Volkswagen to offer two lower-powered versions of its 2.0 TSI engine in this family SUV (with 190 and 245PS), so the brand clearly thinks there'll be some folk who'll perhaps want to go a step further.
Like a Golf R or T-ROC R, this car uses Volkswagen's EA888-series 2.0-litre TSI engine in the 320PS level of tune that features in just about every other high performance mid-sized Volkswagen Group model you can think of. In this installation, it won't feel quite as rapid as it does when fitted to a Golf R - you can thank this top Tiguan's rather portly 1,746kg kerb weight figure for that - but satisfyingly rapid point to point times are still very possible. Press the blue 'Race' mode button on the Tiguan R's steering wheel and 62mph can be dispatched in just 4.9s en route to a maximum which has to be artificially limited to 155mph. 4MOTION 4WD is standard.
Design and Build
Volkswagen has done its best to give this Tiguan flagship model a meaner look. Well, as much as a Tiguan ever can look mean anyway. As befits the fastest ever Tiguan, it looks the part, with huge 21-inch 'Estoril' wheels and an 'R' styling pack that brings unique shaping for the front and rear bumpers and rear roof spoiler. You also get matt chrome-effect door mirrors, a black rear diffuser with twin chromed exhausts, a performance braking system with 'R'-branded calipers and darkened rear LED tail lights.
Inside, you get a bespoke blue-stitched three-spoke steering wheel and more heavily side-bolstered sports seats part-trimmed in 'Sardegna' cloth with 'Art Velours' microfleece. Plus 'R' branded graphics for the 8-inch 'Digital Cockpit Pro' instrument screen, the illuminated door sill plates, the puddle lights and the carpet mats. This R model is of course as practical as any other Tiguan. There's the usual sliding rear bench. And the powered hatch rises to reveal a spacious 520-litre boot, which with the seat pushed right back is 520-litres in size. Push that rear bench forward and you'll improve this figure to 620-litres, a figure that few other rivals in this segment can match.
Market and Model
The top Tiguan R performance model commands a premium price tag - think around £46,000. does of course have its own bespoke specification. We've covered all the exterior and cabin adornment in our ;Design & Build' section. As well as that, you get a double dose of Volkswagen's latest technology - things like the 'DCC' 'Dynamic Chassis Control' adaptive damping system. And IQ. Matrix headlight system with its 24 twinkling LEDs per headlamp. There's also a 'Park Assist' system to steer you into spaces, a rear view camera and a whole portfolio of cutting edge camera safety kit. Plus there's a 'Driver Profile Selection' driving modes system with 'Eco', 'Normal', 'Sport' and 'Track' settings. And a gesture-controlled powered tailgate, along with a 30-colour ambient lighting system for the cabin.
We should also mention the brand's clever 'Travel Assist' autonomous driving technology. This is a camera and radar sensor-controlled assistance system that will autonomously accelerate, brake and steer your Tiguan while maintaining a safe distance to vehicles ahead. Also standard is 'Emergency Assist', which can take over driving duties completely should you become incapacitated, steering the car to the side of the road and bringing it to a safe and gradual stop.
Cost of Ownership
You won't have chosen a Tiguan R in search of ultimate economy but by the standards of super-family mid-sized performance SUVs, it doesn't do too badly. You're looking at up to 28.2mpg and up to 226g/km. To give you some perspective on that, we'll tell you that the 2.0 TSI 190PS model manages up to 33.2mpg and up to 194g/km. For the 2.0 TSI 245PS variant, the readings are up to 32.1mpg and up to 200g/km.
The usual efficiency tweaks contribute to these figures. There's an 'Energy Recovery' set-up to reclaim energy that would otherwise be lost under braking or during cruising. And the usual Start/stop system to cut the engine when you don't need it, stuck at the lights or waiting in traffic. Insurance is a group 36E rating.
As for servicing, well as usual with Volkswagen models, there's a choice of either 'Fixed' or 'Flexible' maintenance packages. You'll choose the 'Fixed' approach if you cover less than 10,000 miles a year and with this, the car will typically be looked at every twelve months. If your daily commute is more than 25 miles and your Tiguan will regularly be driven on longer distance journeys, you'll be able to work with a 'Flexible' regime that can see you travelling up to 18,000 miles between garage visits - or every two years, whichever is sooner.
Summary
There are quite a few dynamic compromises involved in the translation from Golf R to Tiguan R. You'll be expecting that. There isn't quite the involving handling sharpness of a rival (but far pricier) Porsche Macan Turbo either. You'll probably be expecting that too. If you can allow for these two caveats and somehow justify the asking price here, there's otherwise lots to like.
It's a more complete performance confection, in our estimation, than some of the other VW Group compact SUVs that use the same performance engineering formula - the Audi SQ2, the CUPRA Ateca and Volkswagen's own T-ROC R all spring to mind. Personally, we think that a CUPRA Formentor with the same drivetrain is a slightly more complete package than this Tiguan R, but this Volkswagen runs it close and is cheaper. It'll be a rare sight on our roads. But for its owners, a surprisingly satisfying experience awaits.