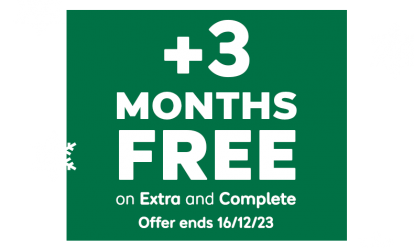 With 12 months of cover, new customers get an extra 3 months for free*.
*Added after 12 months, excludes Basic cover. New customers only. Ends 16/12/23, 7am.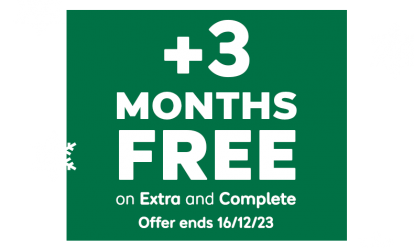 Volkswagen delivers a very different kind of LCV with this ID.Buzz Cargo. Jonathan Crouch briefs you on it.
Ten Second Review
There's never been a van quite like Volkswagen's ID.Buzz Cargo. There are more practical EV commercial vehicles in the class, but nothing remotely as eye-catching. It's a completely different interpretation of what a medium sized LCV can be.
Background
Did you ever imagine that your company's medium-sized van would ever look like this? The styling of this Volkswagen ID.Buzz Cargo might be retro (based on the brand's classic T1 van) but its engineering is decidedly future-orientated. As the name suggests, it's the van version of the ID.Buzz MPV passenger-carrying model. And, like all ID models, it's fully electric and based on the Wolfsburg conglomerate's advanced MEB full-battery platform.
Volkswagen doesn't suggest this to be the most practical mid-sized EV van you could choose; it isn't. But the brand will contend that this is the most car-like LCV in its class. And, crucially, the model with the longest EV driving range. Sounds promising.
Driving Experience
Given that the MEB platform here was primarily designed for medium-to-large cars, not a commercial vehicle, you wouldn't expect the ID.Buzz Cargo to feel especially van-like to drive - and it doesn't. With a 204PS electric motor, it's not short on grunt and it's single-available 77kWh battery is impressive in range too - a class-leading best of 256 miles. Thanks to a healthy 310Nm of torque away from standstill, it certainly feels a good deal more urgent than its main more conventional (primarily Stellantis Group-designed) mid-sized EV rivals. The 62mph from rest sprint occupies 10.2s, en route to the very modest top speed of 90mph. The car-derived platform is supple over bumps and both wind noise and tyre roar are very well suppressed. Towing weight is rated at 1-tonne; some rivals can pull more.
You're not spoiled for driving modes or lots of brake regeneration settings. There's just a 'B' option for the gear selector, which decelerates the vehicle by up to 0.3g off-throttle, which is useful, but nothing like enough to deliver 'one-pedal' driving at low speeds. Cruise control with intelligent speed assist comes as standard and there's more camera safety kit than you might expect from a van. There's a tight 11-metre turning circle, which along with the glassy cabin should make the Buzz feel very manoeuvrable in town. All the usual VW drive assist features are available - Matrix headlights, 'car2x' swarm informational technology and the 'Travel Assist' semi-autonomous drive system.
Design and Build
Did you ever think your company would get the chance to run a medium-sized van looking like the ID.Buzz Cargo? Probably not. It seems a contradiction in terms for an LCV to prioritise style over boxy practicality but that's what we've got here and you'll either think it ridiculous or charming: there'll be no in-betweens. Volkswagen is only offering this standard 4,712mm long body shape. Which is annoying because the People Carrier version of this design is also available with a long wheelbase platform which would have suited this van version much better. That body length places the ID.Buzz between standard and long wheelbase versions of vans in the class below. Citroen's e-Berlingo, for instance, is 4,403mm-long in standard form and 4,753mm-long in long wheelbase XL guise. A typical medium-sized EV van (like, say, a Citroen e-Dispatch) would usually be just under 5-metres long in its most usual standard form.
Inside this Volkswagen, it's all much higher quality than you'd normally find in an LCV cab. Though not quite as nice as the ID.Buzz MPV because that model's lighter coloured plastics and brighter upholstery are replaced by darker, more practical shades here. That MPV model's 'Play' and 'Pause'-branded pedals are replaced by conventional items too. There's a three-seat cab layout, with the driver's seat heated. You sit quite high with a wide view through the vast windscreen. The high-mounted minimalist dashboard is unique and houses a 5.3-inch digital instrument display and a 10-inch centre touchscreen. The auto gear lever is on the steering column.
Market and Model
Prices from launch started from around £43,500 (ex VAT) for the entry-level 'Commerce' version, with the better-equipped 'Commerce Plus' version costing from around £48,500 (ex VAT). Both prices are after deduction of the government's £5,000 Plug-in Van Grant. To give you some idea, grant-deducted prices for typical mid-sized EV vans these days start from around £35,000-£40,000 (eg Fiat E-Scudo), about £5,000 more than the cheapest grant-deducted price for a long wheelbase version of an EV van in the class below (eg Citroen e-Berlingo XL). Either of those two cheaper LCV class alternatives would give you more carriage space than this Volkswagen.
Still, at least it's well equipped. Even the base 'Commerce' ID.Buzz variant comes with a heated driver's seat, cruise control with a speed limiter and 'Intelligent Speed Assist', an anti-theft alarm system and Volkswagen's 'App-Connect' smartphone-mirroring set-up including 'Apple CarPlay' and 'Android Auto'.
Stretch to the plusher 'Commerce Plus' version and you'll also be treated to a rear view camera, a heated windscreen, Adaptive Cruise Control and an 'Intelligent Park Assist' system that automatically steers this van into spaces. Media provision at this level is enhanced by a 'Discover Pro' infotainment system with navigation built into the standard model's 10-inch screen, plus a wireless version of the 'App-Connect' system. A key option with both variants is the 'Buzz Box' compartment, which hinges down from the base of the dash, revealing a couple of cup holders, a bottle opener and an ice scraper. You can specify powered sliding side doors too.
With both versions, you get autonomous emergency braking with cyclist and pedestrian detection. And you can optionally add Volkswagen's clever 'Travel Assist' system, which can help to keep you in lane, while maintaining the distance to the vehicle in front and the maximum speed you've set. 'Travel Assist' adapts to your driving style and can also adjust your driving position further to the left or further to the right in your own lane instead of being exactly in the middle.
Practicalities and Costs
Those retro looks do entail practical limitations and sure enough, the elephant in the room here is carriage space. The 3.9m3 cargo capacity is well below par for the medium-sized van sector that this Volkswagen's body length and price suggests this ID.Buzz Cargo should compete in. It's more like (but still a bit below) the kind of cargo area capacity you'd expect from a long wheelbase version of the more compact EV van from the class below (a long wheelbase Renault Kangoo E-Tech, for instance, offers 4.2m3).
Boxier medium-sized EV vans in the next class up typically take around 6m3 of capacity (the Ford Transit E-Custom for instance, takes between 5.8m3 and 9.0m3, depending on body shape). This ID.Buzz Cargo model won't ever be able to match that because Volkswagen refuses to offer it in the long wheelbase body shape you can have with the MPV Buzz version. Even in this standard form though, this model has enough floor space to fit two euro pallets inside. It's the high positioning of the floor that limits capacity. The payload is well down on what you'd get from rivals too (607kg with base 'Commerce' trim).
As we told you in our 'Driving' section, the EV range is an easily class-leading 256 miles from the 77kWh battery (gross capacity 82kWh). You'll want to know about charging, which with either variant takes place using a Type 2 connector and works via an on-board charger with a maximum power of 11kW. This replenishes the battery from empty to full in about twelve and a quarter hours from a normal 7.4kW garage wall box. You can reduce that to about eight and a quarter hours if you happen to have a three-phase grid connection. But if you simply plug-in using a regular domestic plug, you're looking at charging taking 39 hours and 30 minutes.
If you're out and about and find a rapid charger, you can use that thanks to the provided CCS connection. The maximum rapid charge power is rated at 175kW, but in an average charging session, the charging power will be at about 115kW, which replenishes the battery from 10 to 80% in about half an hour. Such a rapid charge will give you about 140 miles of driving range.
Finally, there's the warranty. Volkswagens cars are limited to a three year/60,000 mile warranty package, but with a Volkswagen Commercial Vehicle (which is what all ID. Buzz models are classed as), the mileage limit in this period is raised from 60,000 to 100,000 miles. There's also three years of pan-European Roadside Assistance also included with no mileage restriction. The paintwork warranty lasts for three years and the ID. Buzz Cargo is protected by a 12-year anti-corrosion body warranty.
Summary
So, style over substance? Well it depends what you mean by 'substance'. Yes, the Buzz Cargo's load bay is small by the standards of the medium-sized van segment, but this Volkswagen fights back with a more complete specification than most mid-sized EV van models; and a much higher electric driving range. Plus there's its eye-catching style: nothing else you could choose in this class will get people looking at your company's van anything like as much.
Further incentives here lie with the fact that this Volkswagen is the most car-like model in its sector to drive - and to sit in. Plus it will keep its value better than anything else in the segment. But is all that enough to overcome the practicality downside? If it is, you'll enjoy running one of these.