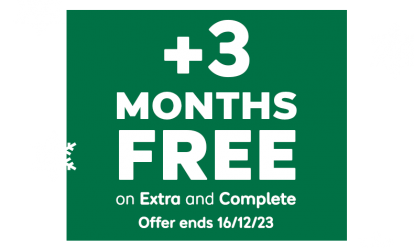 With 12 months of cover, new customers get an extra 3 months for free*.
*Added after 12 months, excludes Basic cover. New customers only. Ends 16/12/23, 7am.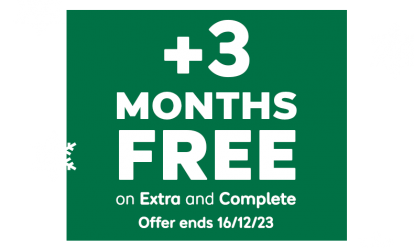 Volkswagen's eighth generation Golf Estate is a very polished kind of compact station wagon. Jonathan Crouch takes a look.
Ten Second Review
Volkswagen's current emphasis on SUVs hasn't stopped the brand from also bringing us this eight generation version of the Golf estate. It's smarter, much more sophisticated and offers plenty of electrified engine tech. Plus it can offer a far large load area than any comparably priced compact crossover. If you're not particularly enamoured with SUVs and want a family model of this size, you might really like it.
Background
Given that estates are designed to haul a hefty amount of gear around, the concept of a compact estate at first seems one destined to crash and burn. And so it has proved. No matter which hugely successful product line you choose - Volkswagen Golf, Ford Focus, Vauxhall Astra or Renault Megane - its estate variant has added but a nominal amount to the overall sales figures. Accept that this is the way it is - and is destined to stay - and it's easier to get to grips with this latest Golf Estate.
Sold alongside the Golf five door hatch, the Golf Estate offers another alternative for those wanting a family Volkswagen of this size but not quite prepared to step up to a Tiguan compact SUV or a Touran MPV. And the car itself? Well, after eight model generations, it would perhaps be a little surprising if Volkswagen didn't have the hang of building Golfs by now.
Driving Experience
Get under the skin of this latest generation Volkswagen Golf Estate and you'll find a modular MQB chassis that's only lightly evolved from the underpinnings used by the previous generation model. But there's significant change beneath the bonnet. For petrol people, things kick off with a 1.0-litre TSI unit with 110PS, which when ordered in DSG guise can be had with the brand's latest eTSI 48V mild hybrid tech. Most Golf Estate customers though, are going to want a larger engine than that, probably the 1.5-litre TSI petrol unit, offered in either 130 or 150PS states of tune. Choose auto transmission with this engine and you'll get the eTSI mild hybrid tech included.
There are also a couple of 2.0 TDI diesel options, either a 115PS unit with a manual gearbox or a 150PS variant with the option of DSG auto transmission. The diesel unit features in 200PS form in the SUV-style 'Alltrack' model, which continues, as before using the brand's permanent 4WD system and offering increased ground clearance and an all- terrain look including specific bumpers. Across the Golf Estate range, as usual, there's the option of Volkswagen's 'DCC' 'Dynamic Chassis Control' adaptive damping system which works with a 'Driver Profile' driving modes system offering 'Eco', 'Comfort', 'Sport' and 'Individual' settings. And of course there's extra camera-driven tech, including an optional 'Travel Assist' system which combines Adaptive Cruise Control and Lane assist to allow 'hands-free' driving at speeds of 130mph. Which sounds vaguely alarming but which Volkswagen assures us is a significant safety aid.
Design and Build
This time round, Volkswagen has tried to make the exterior design of this station wagon variant a little more clear-cut and dynamic. The front end is obviously the same as that of the hatch but further back, the Estate features a roof section that becomes flatter towards the rear as well as a coupe-type, angled rear window. The headlights and tail light clusters now feature LED technology. This eighth generation design is 4,633mm long and now boasts a wheelbase of 2,686mm (a 66mm increase over its predecessor).
Volkswagen has used virtually all of that extra wheelbase length to benefit cabin space - especially in the rear where there's now 48mm more room to stretch out. The 611-litre boot's fractionally bigger too (6-litres larger) which maintains this model's class-leading status in that regard. With the car loaded up to the roof liner, the volume increases to 1,642-litres (an increase of 22-litres).
Up front, there's a radical difference over the previous model with a contemporary cabin dominated by a couple of screens. There's a 10-inch centre-dash infotainment monitor with the usual features - including 'Apple CarPlay'/'Android Auto' smartphone-mirroring which can now be operated wirelessly. Complementing this is a 10.25-inch 'Digital Cockpit' TFT instrument display screen - the largest in the segment. Elsewhere, virtually all the traditional switches and buttons have made way for touch-sensitive ones - though buttons on the steering wheel and door panel do remain, as does the dash one for the hazard flashers.
Market and Model
Most Golf Estates will be sold in the £28,000 to £35,000 bracket and the range is mainly based around 'Life' and 'Style' levels of trim, plus sporty 'R-Line'-spec and the standalone 'Alltrack' variant, with the pricey Golf R Estate at the top of the range. Across the line-up, the Golf Estate model shares virtually all its engineering with two close rivals - estate versions of the SEAT Leon and the Skoda Octavia. Obvious competitors from other brands include estate versions of the Ford Focus, the Vauxhall Astra, the Peugeot 308, the Hyundai i30, the Kia Ceed and the Toyota Corolla.
Standard equipment across the range includes a 10-inch centre-dash infotainment screen with an operating interface that responds to the command 'Hey Volkswagen', followed by whatever you want to ask. Also standard are the full-LED headlights and the 10.25-inch 'Digital Cockpit' instrument binnacle screen. Entry-level cars run on 16in wheels, but higher levels gain 17-inch rims, plus extra ambient lighting options, chrome exhausts and leather trim options. Across the range, enhanced standard features include a Lane Assist lane departure warning system, a Front Assist with City Emergency Braking System and Pedestrian Monitoring, plus a new oncoming vehicle braking when turning function. Volkswagen also says that this MK8 Golf Estate will be upgradeable, so if required, features like adaptive cruise control, light assist and a wi-fi hotspot can be added and enabled after you bought the car.
Cost of Ownership
Across the range, WLTP fuel consumption is claimed to have improved by around 10%. The base 1.0 TSI petrol unit manages WLTP returns of up to 51.4mpg on the combined cycle and up to 125g/km of CO2. The mild hybrid 48-volt electrical system that features on the volume 1.5-litre petrol Golf Estate models should allow for a decent improvement in running cost efficiency. It recovers energy that would otherwise be wasted when slowing down, redeploying up to 16hp and 25Nm of electric boost under acceleration. The top 150PS version of the 1.5 TSI petrol unit manages up to 49.6mpg on the WLTP cycle and up to 129g/km. If you'd rather have one of the TDI diesel units, you'll find that both are cleaner than before, with changes claimed to cut CO2 emissions by 17%. The 2.0 TDI EVO 115PS unit manages up to 61.4mpg on the WLTP cycle and 120g/km of CO2.
The car's coasting function (available with DSG auto transmission) further aids efficiency, as does a redesigned AdBlue delivery system that cuts nitrogen oxide emissions across the TDI range by 80%. And warranties? Well the standard package is three years and 60,000 miles. We can't see why Volkswagen couldn't extend that mileage limit to 100,000 miles, since that what you get on its mechanically very similar Caddy model. Doing that though, wouldn't give Volkswagen dealers so much of an opportunity to sell extended warranty packages. There's one for four years and 75,000 miles or, if you plan to see a bit more of the world in your Golf Estate, there's a five year / 90,000 mile package.
Summary
The Golf Estate has never been one of the brighter stars in the Volkswagen firmament. It was always too small, too overshadowed by the hatch or too dowdy to really appeal. While this latest MK8 version isn't about to outshine the hatchback version, it at least addresses these other two issues reasonably well. It's usefully bigger than before and the styling is now agreeably sleek.
The rest of the news is good too. Less weight and more space is always a good combination and a number of efficiency measures mean that estate buyers who would have automatically looked to diesel engines should also now consider powerplants like the ingenious 1.0-litre and 1.5-litre eTSI mild hybrid units. Small estates will never be big sellers but, as Volkswagen has demonstrated, if a job's worth doing, it's worth doing well.