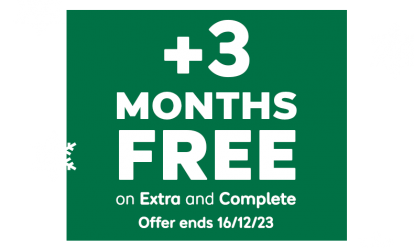 With 12 months of cover, new customers get an extra 3 months for free*.
*Added after 12 months, excludes Basic cover. New customers only. Ends 16/12/23, 7am.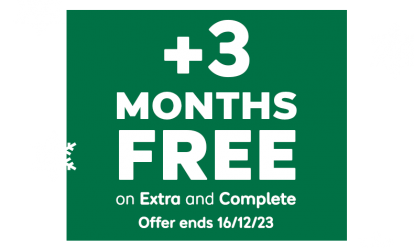 By Jonathan Crouch
Introduction
Volkswagen's Amarok pick-up was first launched in 2010, but made a much more powerful impression in the much improved facelifted form that was launched in 2016. The installation of a 3.0-litre V6 TDI diesel across the range transformed performance and slightly improved efficiency. Plus there were sharper looks and a much smarter cabin, along with one of the most versatile loading bays in the segment. In short, this is a capable, classy contender offering a premium option for pick-up people.
Models
3.0 Pick-up (diesel) [163, 204 OR 224PS]
History
In the 21st century's second decade, European brands increasingly started to enter the growing pick-up segment, but only one of them created their own unique product. Volkswagen's Amarok, first launched in 2010, always stood apart for just that reason - and still did in this much improved post-2016 version of the first generation form.
The biggest change with this facelifted version related to what lay beneath the bonnet. You wouldn't have expected an across-the-range switch from a 2.0-litre four cylinder diesel to a 3.0-litre V6 TDI unit to have benefitted efficiency, but that's just what did happen here. In addition, Volkswagen reckoned this updated Amarok set a fresh class standard for cabin quality, especially when it came to infotainment connectivity. Plus there was a smarter exterior look and greater safety cleverness. This model sold until 2020, when it was deleted from the range and not replaced.
What You Get
A more sophisticated pick-up should offer more sophisticated looks - as this one does. There are certainly rivals from this era that can make more of a streetside statement, but many buyers in this Amarok's target market will feel that a decent compromise between style and sensibility has been achieved here. The dimensions of this facelifted model are exactly the same as they were with the original version, so this Volkswagen remains a substantial thing, 5.25m long and 2.23m wide. In this post-2016-era form, it was only offered in the double cab body style.
Nearly all the key cosmetic improvements made to this facelifted model can be found at the front, where revised headlamps and more interesting upper and lower grille sections make a big difference to this vehicle's rear view mirror overtaking presence. You'll find that much more of a step forward was made as part of the facelift revisions when you climb up inside. Through the classier three-spoke leather-stitched wheel, you view a smarter instrument binnacle featuring chrome dial rings on plusher models. Shift your gaze across the dash and you'll find smarter square air vents (they replaced the previous round ones), with those at the top of the centre stack surrounding a more sophisticated infotainment touchscreen.
Ah yes, the touchscreen. It's a cabin focal point and providing you avoid entry-level trim, this monitor will be 6.33-inches in size, with buyers offered a choice of either a standard 'Composition Media' set-up or the optional more sophisticated 'Discover Media' system. What else? Well finding the right driving position is fairly straightforward and all-round visibility is good, aided of course by the high-set driving position.
In the rear, the seat base is higher off the floor than it is in some rival models, which makes things significantly more comfortable. This seat back can be folded forward to reveal an area where the jack and tools are stored - a good place to put small valuable items out of sight. If the rear bench isn't in use and you need more storage room, there's also the option to fold up part or all of the seat cushion base and lash it in position, thereby creating floorspace for the transport of bulky items you might not want to leave exposed and insecure in.
Time for a few load bay practicalities. Drop down the sturdy lockable tailgate and the headline news is the impressive 2.52m3 load volume, enough to carry a Euro pallet sideways, something not possible in any other rival pick-up from this era. That might encourage you to carry heavier loads, so it's important that the total payload capacity comfortably exceeds the one-tonne mark, regardless of whether you opt for Selectable or Permanent 4WD. There's a rear axle load limit of 1,860kgs, a maximum Gross Vehicle Weight of 3,290kg and a 3.1-tonne towing capacity.
What You Pay
Please fill in the form here for an exact up-to-date information.
What to Look For
There's certainly stuff to look for here but one of the good things about buying a used Amarok is that it's less likely than some other models in this segment to have been seriously used off road - or for really heavy loads - so previously owned examples ought to be in reasonably good condition.Despite that, we came across a number of issues with our ownership survey.
Spares are pretty hard to source; one owner found a broken side window took 3 weeks to get and a wing mirror a similar time. His model had to have a recall for the brakes and both CV joints needed replacing at 67000 miles after failing dangerously. He also found that his Amarok used a lot of oil and by 73,000 miles, it was on it's 6th set of new quality tyres.
Another owner, not long after buying his Amarok, got the stunning news that he needed a new Diesel Particulate Filter costing £2400.00 (as part of the exhaust, it wasn't covered under the warranty). He was told that it was his fault for not using the vehicle correctly in not going on long enough journeys. After a lot of arguing VW replaced the DPF ... and the light came on again 400 miles of fast A road driving later.. Look out for this dash light on your test drive. Otherwise, it's just the usual things; check the alloys and the load bay for undue scratching. And insist on a full service history.
Replacement Parts
(approx based on a 2018 Amarok - Ex Vat) An oil filter is in the £10-£15 bracket. Front brake pads cost in the £30 to £48 bracket. Front brake discs cost in the £26 to £60 bracket. Front brake discs are around £75-£143; rears are around £32. A front halogen headlamp is around £145. A rear lamp costs around £82-£95. A wiper blade is around £11-£14. And a pollen filter is in the £8 to £22 bracket. An air filter is around £20-£25. A front shock absorber is around £160. A water pump is around £38.
On the Road
In its original form, this Volkswagen had one of the smallest engines in its class. In its facelifted post-2016-era form though, it gained one of the very largest, a 3.0-litre V6 diesel which was available in three states of tune - 163, 204 or 224PS. In the case of the two pokier variants, that was significantly more power than most other mainstream models in the pick-up segment from this era could offer and as you'd expect, that makes overtaking considerably easier than it would normally be in a vehicle of this type. Especially in the top 224PS version, which features an 'overboost' feature that activates when the accelerator pedal goes past 70% of its travel and gives you an extra 18PS to play with. With 550Nm of pulling power, it makes 62mph in just 8.0s on the way to 119mph. Both the two pokier versions of the V6 manage 36.2mpg on the combined cycle and around 203g/km of CO2 (both NEDC figures).
As with the original version of this model, two kinds of '4MOTION' 4WD system were offered. There's a selectable set-up that works with a manual gearbox on the base 163PS version, while a 'Permanent' 4x4 system works with an 8-speed auto gearbox on top 224PS models. Original buyers of mid-range 204PS variants got the choice of both transmissions and both 4x4 set-ups. For 'off piste' use, all models feature an 'off road' button that modifies the way the ABS and stability control systems work, holds lower gears and dulls the throttle response. Pressing this button also activates 'Hill Descent Control', there to ease you down slippery slopes. On tarmac, refinement and ride quality are a cut above the class standard from this era - as is handling, providing you've got a bit of weight in the back. If you haven't, then, as with all pick-ups, you'll need to watch your step a little more, particularly if the road is greasy.
Overall
We expected this improved post-2016-era first generation Amarok to be smarter, better connected and classier inside - and it was. It also proved to be slightly more efficient too - though not to the extent it would have been had Volkswagen merely tinkered with the previous 2.0-litre TDI unit, rather than sticking a huge great 3.0-litre V6 beneath the bonnet.
And in summary? Well, relatively limited global production meant that this Volkswagen was never going to threaten its Oriental rivals' market dominance with this model, but in terms of product excellence, it certainly gave them plenty to think about. With the Amarok, we Europeans at last gave the Far East something it could learn from.