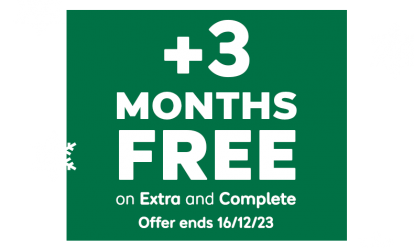 With 12 months of cover, new customers get an extra 3 months for free*.
*Added after 12 months, excludes Basic cover. New customers only. Ends 16/12/23, 7am.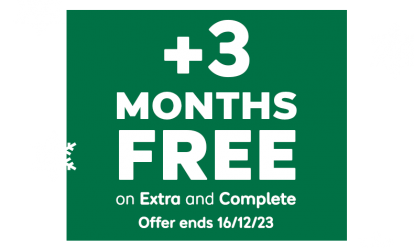 By Andy Enright
Introduction
Vauxhall fundamentally changed the way we bought panel vans in the UK. When the Vivaro was first launched in 2001, the van market was a carve up. If you wanted inexpensive you bought a Transit. If you wanted to spend more, you went for a Volkswagen or a Mercedes. These days, things are very different and the Vivaro has been a key player in delivering customers a real alternative and in forcing its rivals to up their respective games. Here's what to look for when shopping for a used example.
Models
5dr medium/large van (2.0, 2.5 diesel [Sportive])
History
The Vivaro owes its existence to another van, the Renault Trafic. That van was first introduced in 1981 and had a nineteen year run at the market, but when Renault needed to replace it, rather than take on the costs of developing a new van platform all by itself, it cast around for partners willing to share the costs and got two for the price of one; Nissan and Vauxhall. The Renault Trafic, the Nissan Primastar and the Vauxhall Vivaro were all launched together in 2001, the majority of these vans built in Luton with some screwed together in Barcelona.
There was a small facelift in 2006 where the indicators were moved from the front bumpers into the headlamp housings. The 750,000th 'Vivaro-type' van ran down Luton's line in 2010 and it was during this year that the van had a refresh, with a better quality fascia, more standard equipment, the introduction of the Sportive trim and an extension of the service intervals from 18,000 to 20,000 miles. These versions of the Vivaro continued to be sold until its replacement with a proper second generation model in 2014.
What You Get
Slotting in above the Combo model and just below the well respected Movano panel van, the Vivaro targets buyers wanting a maximum payload of up to 1.2 tonnes. There are standard and high roof versions, long or short wheelbases, low and high-floor dropside models, Double Cabs and a stylish 'Sportive' model. Those in search of a minibus can choose short or long wheelbase Combi variants or a full 12-seat version. Air conditioning's standard and an impressive range of infotainment systems are on offer, including colour sat nav. Vivaro buyers also get standard ABS and optional ESP stability control.
A wide range of Vivaro variants are on offer, up to 2.9 tonnes in gross vehicle weight. Payloads are 1161kg for the 2.0-litre models and 1173kgs for the 2.5 CDTi. Plus there are maximum trailer weights of 2000kg (braked) and 750kg (unbraked). There are two wheelbase options (3098mm and 3498mm) and two roof heights giving a maximum load volume of over 8m3. The short-wheelbase low roof panel van has a length of 4.78m, a width of 1.90m and a height of 1.96m.
Inside the short wheelbase version, the load area is 2.41m long and 1.32m high. To save you doing the sums, that means a loading capacity of around five cubic metres. Opt for the long wheelbase model and that rises to nearly six cubic metres, thanks to a vehicle length of 5.18m and a load area length of 2.81m. Enough, in other words, for three Euro-pallets. Go the whole hog and get the long wheelbase, high roof model and there's a load volume of 8.36m3. To protect the cab area, there's a full-height steel mesh grille, with a more sensible full bulkhead available with or without glass as an option.
To help access all the Vivaro's space, a one metre-wide sliding door is fitted as standard on the passenger side. A step inside the side door aids access, but if you're over 4ft 6in tall you'd better mind your head. A second sliding door is available as an optional extra, as is a hinged rear door opening to an angle of 270 degrees on the long wheelbase version. The normal rear door arrangement is this one, where the left rear door opens first, with stays at 90 degrees which are easily released for 180 degrees. Alternatively, a one-piece, top-hinged glazed tailgate is also available.
Combined cycle fuel consumption is at around 40mpg for both 2.0-litre models. If you go for the 2.5 CDTi, it'll inevitably drop - but not too much - to around 37mpg. CO2 emissions are 214g/km for the 2.0-litre models and 232g/km for the 2.5. Operators will also be interested in the Vivaro's 12-year anti-perforation warranty, low insurance costs and servicing requirements that are only every 20,000 miles or two years. There was also a three year / 100,000 mile warranty included with every Vivaro sold.
What You Pay
Please fill in the form here for an exact up-to-date information.
What to Look For
The Vivaro has earned a decent reputation for reliability, being the beneficiary of long years of continual development. The interior isn't the last word in sophistication but it is hardwearing. Check for damage to locks, tired rear suspension, slipping clutches and brakes and make sure that the load bay tie-downs aren't bent or broken. The engines tend to be very rugged, but check that the glow plugs are good and those with over 80,000 miles on the clocks are due for alternator replacements. 72,000 miles is also the time that cam belts need changing. If this hasn't been done, you'll need to negotiate a £350 discount.
Check the brake pads and discs as Vivaros can eat through these if they're regularly driven fully loaded. The final thing you'll need to look at is the engine management light on the dash when you key the ignition. If it doesn't go out after a second or two, it could point to a potentially expensive fault in the wiring loom or the electronic engine control unit or a cheaper issue with the camshaft sensor.
Replacement Parts
(approx prices, based on a 2011 Vivaro Sportive SWB panel van) The Vivaro didn't reach its market position on the back of expensive ongoing running costs and spares availability is good and parts are reasonably priced. A brake master cylinder is £50, front ant-roll bar bushes are £10 a pair, an air filter is £35 and front brake discs are £50 a set. A replacement alternator is a very reasonable £115.
On the Road
If you've had any experience with an early 1.9-litre CDTi Vivaro model, you'll notice a big difference at the wheel of the later 2.0-litre Euro IV-compliant van. It's still front wheel drive but the more modern 90 and 115PS engines offer higher performance with practically the same fuel consumption as their older predecessors, but have up to 26 per cent more pulling power, with torque up to 240Nm for the entry-level unit, and 290Nm for the 115PS engine. We'd go for the 115PS unit if you possibly can, strong enough to raise the Vivaro's top speed by 9mph to 99mph.
For those hauling really heavy loads - or simply liking the idea of a bit of extra grunt - a 2.5-litre CDTi powerplant sits at the top of the line up, with 145PS and 320Nm of torque making a 106mph top speed possible. All Vivaros get a six-speed manual gearbox as standard and unless you go for the entry-level 90PS version, there's also the option of a semi-automatic Tecshift transmission - useful for urban drivers.
Overall
The Vauxhall Vivaro is a perfect example of a van that didn't set out to change the world, but in doing the simple things right managed to subtly change the way we bought commercial vehicles. It established Vauxhall as a credible LCV manufacturer and while that may have been achieved off the back of Renault's design excellence, it nevertheless paved the way for a subsequent range of big-selling Vauxhall vans. The first generation Vivaro range stuck around for 13 years, so the preferable post-2010 models we'd suggest you look at have a decade of refining and fettling behind them. Look at a few examples and try to find one that's been serviced on the button and hasn't had too hard a life. Manage that and you shouldn't go too far wrong.