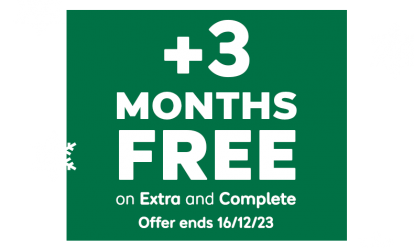 With 12 months of cover, new customers get an extra 3 months for free*.
*Added after 12 months, excludes Basic cover. New customers only. Ends 16/12/23, 7am.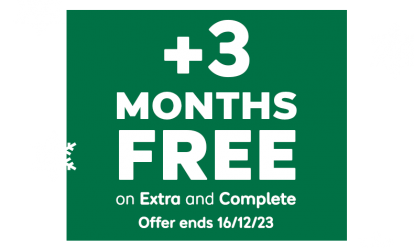 Toyota's fifth generation RAV4 gets a bit of an upgrade. Jonathan Crouch takes a look.
Ten Second Review
Toyota's RAV4 mid-sized SUV soft roader has been around so long it's easy to forget quite how far it's come. The fifth generation model has now been significantly updated with completely new interior screen tech, plus fresh safety systems and various clever remote services. As before, there's the choice of a self-charging full-Hybrid engine with front or four-wheel drive. And a 4WD Plug-in Hybrid variant. Reacquaint yourself with a RAV4. You might be in for a surprise.
Background
It's easy to underestimate quite what a debt of gratitude we owe the Toyota RAV4. Back in 1994, the market for compact SUVs was massively different to the one we have today. If you wanted a modestly-sized car of this kind back then, you had to have it with the proviso that it was likely to fall over if it was shown a picture of a corner. This was all part of the bargain. You saved money on the up-front cost, but shelled out when it disappeared through a hedge row on its door handles. The RAV4 changed all that. It was the first compact SUV that was actually good fun to drive on road.
But times change. The RAV4 has grown ever bigger and more sophisticated in response to market entrants like the Volkswagen Tiguan, the Honda CR-V and the Ford Kuga. This fifth generation car was a smarter take on a well-established theme and now it's been usefully updated, aiming to bring the RAV4 back to a prominent position amongst volume brand entrants in the mid-sized SUV marketplace.
Driving Experience
Nothing's changed beneath the bonnet with this MK5 RAV4, so as before, there's the choice of a 2.5 VVT-i self charging hybrid engine with front or four-wheel drive; it delivers 215bhp in front-driven form or 219bhp in AWD form (that variant featuring an extra electric motor). The AWD model adds a further electric motor on the back axle, providing significantly increased extra traction. The powerplant alternative is an AWD-only Plug-in Hybrid variant at the top of the range which has 302bhp and can be really rather fast.
You're probably going to want one of the self-charging models and as with all Toyota hybrids, there's a belt-driven CVT auto gearbox and the RAV4 in this form can be driven in three ways. By the electric motors only (as is the case from start-off for up to 1.2 miles using the provided 'EV' mode); with just the engine (if you're giving it full throttle); or more usually, with a combination of both. During deceleration and under braking, the engine switches off and both electric motors act as high-output generators, recovering kinetic energy that automatically recharges the batteries for the next time the hybrid system is able to switch back to electric-only mode.
This is no BMW X3, but thanks to a stiff GA-K platform and a low centre of gravity, the car turns keenly into corners at speed and there's less understeer than you'd expect in an SUV of this kind, plus plenty of traction to power you out of the other side of the turn.
There's an automatic limited slip differential control on AWD-i models - Toyota calls it a 'Trail Mode' and it's selected via a button on the dash. It deals with the issue that afflicted previous generation AWD RAV4s which saw a risk of the vehicle being stranded if a driven wheel lost contact with the ground on very uneven terrain. Should this happen when 'Trail Mode' is activated, the free rotating wheel will be braked while drive torque is directed to the grounded wheel.at the same time, throttle control and the transmission shift pattern will be adapted to help the driver keep the vehicle moving.
Design and Build
Toyota hasn't made any further visual updates to this fifth generation RAV4 because a package of subtle aesthetic changes was only recently introduced. By way of a recap, this included the adoption of projector-style LED headlights and LED front fog lamps, plus some variants got a smarter 10-spoke alloy wheel design. In 2022, the range also got an extra 'Adventure'-spec version with wider wheel arches, silver front and rear under-runs and more of a serious SUV look. Overall though, this MK5 RAV4 looks much as it did when we first saw the car back in 2018. It still looks accessible - a RAV4 must never be big and bulky. Buyers have always looked at one and thought 'yes I could drive that', 'yes, I could park it' and 'yes, that would look rather nice in the driveway'.
It's inside though, where you'll find virtually all the updates made to this rejuvenated version of this 'XA50'-series model. Toyota has at last upgraded its multimedia system and the result is that this car gains a larger 10.5-inch central screen with a high-definition colour display, plus "Hey Toyota" voice control and over-the-air updates. 'Apple CarPlay' and 'Android Auto' smartphone-mirroring is of course included, though only the Apple system works wirelessly. There's new screen tech for the instrument binnacle too, the old fashioned dials replaced by a 12.3-inch digital combimeter display with four style themes, weirdly named 'Casual', 'Smart', 'Sport' and 'Tough'.
Further back, things are as before. This MK5 model's relatively long wheelbase continues to mean that this car is a size bigger than something like a Qashqai or an Ateca (as it should be for the price) and you can stretch out a little more in the second row as a result. There's no option of third row seating. You get a big boot out back though, 580-litres in size in the standard Hybrid variant. There's 1,690-litres of space on offer if you fold the rear bench.
Market and Model
Pricing starts at around £36,000 for the self-charging Hybrid models; you'll need quite a lot more though (around £46,000), if you want the top 'GR Sport'-spec version. The other core trim levels are 'Icon', 'Design' and 'Excel'. Avoid base spec and you'll be offered the chance to pay a £1,555 premium to go from a front wheel drive to an AWD version. Should you want Plug-in hybrid tech in your RAV4, you'll need much deeper pockets - prices start at just under £45,000. This top variant comes only with AWD and in 'Design', 'Dynamic' and 'Dynamic Premium' states of trim.
This latest RAV4 comes with more remote functions the driver can make use of without having to be in or near their vehicle. The familiar worries about whether you have left a window open, the doors unlocked or the lights on after you've walked away from your car are addressed with remote notifications to confirm the vehicle is secure. You can also lock and unlock the doors - a handy feature if someone without a key needs access, for example to drop off a parcel or to clean the car. The hazard lights can also be flashed, making the vehicle easier to spot in a big or busy car park.
Plus all RAV4 models are equipped with the latest version of the 'Toyota Safety Sense' package. This now incorporates a 'Pre-Collision System' with 'intersection support' that can help with safer turns at junctions. 'Emergency Steering Assist' is also newly provided, helping the driver avoid a pedestrian who has stepped into the road, while keeping the car under control and within its traffic lane. On the RAV4 Plug-in, the system will also recognise and react to bicycles and parked vehicles. The RAV4 Plug-in's PCS also gains the ability to detect oncoming vehicles in the car's traffic lane and reduce the risk of a head-to-head collision.
Cost of Ownership
The Japanese maker describes the RAV4 Hybrid's mainstream technology as being of the 'self-charging' variety - but as we've said, also offers a plug-in version too, which can offer an EV driving range of 46 miles, a combined fuel reading of up to 282.5mpg and a CO2 return of just 22g/km, both class-leading figures.
Most though, will want the ordinary self-charging hybrid version of this car. Let's get to the figures for that. CO2 emissions range up to 126g/km for the front-driven model (combined cycle fuel return up to 50.4mpg) and 131g/km (up to 48.7mpg) for the AWD version. The low emissions mean relatively low Benefit-in-Kind taxation for business users. The base RAV4 model has a BiK rating of 29% - and every other self-charging version comes in at 30%, regardless of spec.
Residual values for the RAV4 have always been good, in most cases bearing comparison with its closest Honda CR-V and Land Rover Discovery Sport rivals and there's little reason to doubt that they'll only improve with this update. What else? Well, the five year 100,000 mile warranty is extremely good and even after that runs out, you'll find that most spares are relatively inexpensive. There's also three years warranty against rust and 12 years of anti-corrosion protection.
Summary
Though opinion may be divided as to whether the RAV4 invented the soft roading segment, few people doubt that, more than any other, this model defined it. In some ways, it continues to do just that, for this car still sums up most of what a model of this kind should be all about. Smart, wieldy, reasonably spacious, affordable to run and with just enough SUV-ness about it to get you to the places you tend to dream about but will probably never go.
This improved version of the fifth generation model won't convince you if you didn't already want a RAV4, but if you did, it's extra cabin screen tech and safety features might be deciding factors - timely improvements, even if there are still other rivals that better this car either on or off road. Few though, provide a stronger compromise between the two and none can better the unimpeachable build quality and strong residuals that have become a RAV4 trademark.