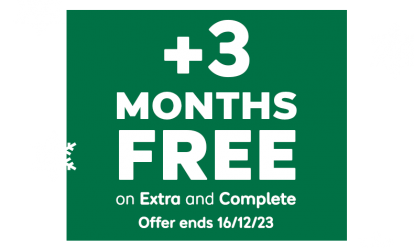 With 12 months of cover, new customers get an extra 3 months for free*.
*Added after 12 months, excludes Basic cover. New customers only. Ends 16/12/23, 7am.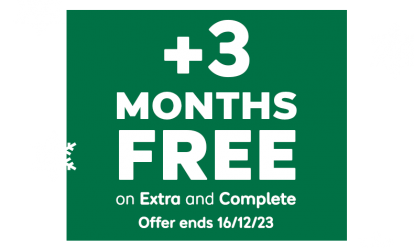 By Jonathan Crouch
Introduction
This post-2015-era Vitara SUV is Suzuki's idea of what a small SUV Crossover should be, fashionable but not entirely fashion-led. In other words, there's a bit of substance mixed in with the style here - and this model's all the better for it. With a choice of petrol or diesel, front or four-wheel drive and styling that's more assured than anything Suzuki has brought us before, it looks in principle as if it might be a decent used buy.
Models
5dr SUV (Petrol - 1.6 120PS, 1.4 Boosterjet 140PS / 1.6 DDiS diesel - 120PS)
History
Small SUV-style 'Juke-genre' Crossover models are all the rage just at present. Every mainstream brand, it seems, must have one. Back in 2015, Suzuki offered customers in this sector the surprisingly light, lithe and fashionable Vitara.
This Japanese maker has been bringing us small 4x4s since the Seventies - and the Vitara name actually dates all the way back to 1988. A 'Juke-style' small Crossover model though - essentially little more than a supermini in a pair of hiking boots - is a very different thing. It certainly has little in common with the kind of properly capable small SUVs Suzuki is used to making - say for example, the old Grand Vitara this car replaced in 2015. As a result, in creating its take on compact Crossover motoring, the brand had to start from scratch - just like its rivals.
Still, clean-sheet thinking has its advantages and the Japanese marque certainly brought us plenty of that in its approach to this segment. Uniquely, one basic platform and a single set of mechanicals was used to bring buyers two Crossover models. On one side of your Suzuki showroom back in 2015 sat this fashionable Vitara, there to compete with supermini-based Crossovers playing to the trendy Nissan Juke and Renault Captur crowd. On the other, buyers were offered the slightly larger and rather more practical SX4 S-Cross model, which Suzuki rather ambitiously hoped would appeal to buyers of slightly larger, family-sized Crossovers like Nissan's Qashqai and Peugeot's 3008.
The Vitara proved to be a stronger seller than its stablemate, more the kind of youthful, dynamic-looking product that buyers of compact Crossover models wanted. On paper, it certainly seems to tick all the 'Juke-genre' boxes, with lifestyle looks, trendy cabin technology and supermini-standards of efficiency. It even claimed to be a rewarding steer on twisty tarmac, which really did make it different from small Suzuki SUVs of the past. There are familiar touches though: value pricing, high specifications and a 4WD option - something actually relatively unusual in this segment. The car sold until 2018 when it was facelifted and the range re-centred around Suzuki's petrol Boosterjet technology. It's the pre-facelifted 2015 to 2018-era Vitara models that we look at here as potential used buys.
What You Get
This proved to be a Vitara for a different age - but it was still very much a Vitara, even if it did only come with five doors. Visual ties with the 1988 original were maintained by the traditional clamshell bonnet, the front wing vents, the rising feature lines of the flanks and the shape of the headlights. As you would expect though, this was a more modern interpretation of what a car of this kind should be. Lift the rear hatch and there's 375-litres of space on offer, a figure that gets within 55-litres of the capacity you'd get in Suzuki's alternative SX4 S-Cross model, which isn't bad when you consider that that car is 125mm longer. More importantly, we're talking of a capacity that marginally betters what's on offer from most other small Crossovers in this sector from this era.
Up-front, you view a clear set of instruments through a three-spoke leather-stitched multi-function steering wheel that's easy to adjust with the seat in creation of the kind of high-ish commanding position that Crossover customers seem to want. The central infotainment touchscreen works quite well too, offered as standard providing you avoid entry-level trim and designed for easy use even if you're wearing gloves. In the back, it's disappointing that Vitara passengers didn't get the sliding rear bench that Suzuki provided in its equivalent SX4 S-Cross model, but even without this, space for legs, elbows and shoulders is all better than the segment norm.
What You Pay
Please fill in the form here for an exact up-to-date information.
What to Look For
We came across quite a few satisfied buyers in our Vitara ownership survey, but some owners had problems too. One experienced the engine cutting out completely (twice) on the move in a 1.4 Boosterjet variant. Reports of crunchy-selecting 1st and 2nd gears on manual models were frequent. And quite a few electrical issues were reported. In one case, lights were coming on and off. In another, there was an issue with the electric window motors. The camera safety kit sometimes came on for no reason in some cars - and didn't function properly in others. There were several reports of the stop/start system not working properly. And quite a few owners felt the sat nav didn't work properly. One owner had a problem with the Hill Start Assist not working. Otherwise, there shouldn't be too much to worry about. Look out for the usual scratched alloy wheels and signs of child damage in the back. And favour cars that have a properly stamped-up service history.
Replacement Parts
(approx prices based on a 2015 Vitara 1.6 petrol ex VAT) An oil filter costs around £4-£8. An air filter is around £8. Rear brake pads sit in the £36 to £59 bracket for a set but you could pay in the £32 to £57 bracket for front pads. Rear brake discs sits in the £70 bracket. You'll pay between £11 and £12 for a drive belt, around £16-£19 for a thermostat and a water pump will sit in the £73 to £77 bracket. Wiper blades cost between £9 and £16.
On the Road
Suzuki offers two main engines in this Vitara, a petrol and a diesel, both 1.6-litre 120PS units capable of 62mph from rest in 11.5s en route to 112mph. ALLGRIP 4WD was available in each case. The petrol's fun, revvy and comes with a slightly stiffer suspension set-up. The diesel though, has much more pulling power and overtaking potential. A 1.4-litre Boosterjet turbo petrol engine was introduced in an ALLGRIP-only 4WD model in 2016. Whatever your choice of engine, this is one of the best-handling small SUV Crossover models in the class, with a great ride and handling balance that could be further perfected by slightly more feelsome steering at speed. If you can stretch to one of the pricey ALLGRIP 4WD variants, you get a 'Drive Mode Select' system that allows you to choose 'Auto' and 'Sport' settings for tarmac use and 'Snow' and 'Lock' options to help you through poor conditions.
Overall
Customers wanting a used SUV of this kind from the 2015 to 2018 period have so much choice that for many of them, it must be difficult to know where to start. If that's the case for you, then beginning your search by looking at a great all-rounder in this segment seems to make a lot of sense. And this Vitara is certainly that.
In this report, we've looked at some of the reasons why. The way the affordably-priced base petrol version is so much more efficient than many cheap petrol-powered rivals. The extra space you get inside compared to key competitors like Nissan's Juke. And the high standards of specification that'll sugar the sales proposition. Plus for what it's worth, this Vitara is also a bit more capable in poor conditions than most of the alternative choices you could make, provided you can stretch up to one of the pricey ALLGRIP 4x4 models. This is, in other words, in every sense, a Vitara for the modern world. A car that's a little more than just a fashion statement.