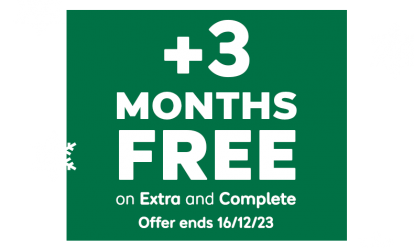 With 12 months of cover, new customers get an extra 3 months for free*.
*Added after 12 months, excludes Basic cover. New customers only. Ends 16/12/23, 7am.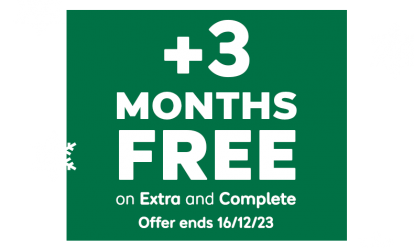 By Jonathan Crouch
Introduction
The first generation version of Subaru's family-sized XV Crossover model looks a better secondhand crossover prospect in this improved post-2016 guise that delivered a smarter interior, additional technology and extra efficiency. As before, its major strength lies with the capable Symmetrical permanent 4WD system fitted to every model. Does it make sense as a used buy?
Models
5dr Crossover SUV (2.0 petrol. 2.0 diesel [S, SE, SE Lux])
History
The Crossover. Arguably, it's the motor industry's fastest growing market segment and in Subaru's XV, that's exactly what we have here. By now, you're probably familiar with the concept behind this kind of car, but even if you're not, you're probably well acquainted with the end result. Whether packaged as Ford Kuga, a Peugeot 3008 or, most successfully, as a Nissan Qashqai, the idea's the same. A family hatchback with SUV attitude and none of the clunky connotations associated with Freelander-style small 4x4s. Virtually none of the off roading capability either - or the solid toughness. Some Crossovers don't even bother with a 4WD option and those that do limit it to ridiculously pricey derivatives.
Crossovers, in other words, are these days more about fashion than substance. But what if you could get one with Qashqai-like style matched to Freelander-like off road capability? What if this class of car, in other words, could actually walk the walk as well as talk the talk? That'd be quite something. That'd be unique. And that's exactly what this XV claims to be designed to deliver.
If any brand was going to be able to create a car able to do this, you'd put money on Subaru to do it. They were building models of this kind way before the concept became fashionable, with a history going all the way back to 1995 and the launch of the Legacy Outback, a chunky all-wheel drive estate then followed by more overtly SUV-like Forester and Tribeca designs. None of which really caught the imagination of British buyers. But this car did. The version we're going to look at here is the last of the first generation versions and was sold between 2016 and 2017.
What You Get
The XV's basic shape is a fairly faithful representation of the crossover norm but it's got a purposeful, chunky stance and some very interesting details that were subtly developed as part of the minor '16 model year facelift. Changes included the adoption of shaplier 'hawk-eye' headlamps and a redesigned bumper featuring more distinctive 'L'-shaped fairings around the foglights. The grille was redesigned too but remained recognisably Subaru in its design, positioned above a huge air intake below the numberplate. Moving back, you get Audi allroad-style wheelarch extensions that look agreeably rugged and at the back end, a tidily finished rear bumper with dark cladding extending back from the rear wheel arch. You lose a lot of the contrast if you go for a dark paint shade, so choose your colour carefully.
A more important part of the '16 model year update package related to the changes that Subaru made inside. Previously, many potential XV buyers had admired the exterior looks, only to find themselves a little disappointed when they acquainted themselves with the dark, rather plasticky interior. So Subaru stepped things up a gear with this late-series MK1 model, with higher quality materials and nice touches like the orange stitching applied to the top spec version's part-leather-lined interior. In this variant, you'll find it on the seats, the steering wheel and the door armrests.
The key cabin change was the smart 7.0-inch colour touchscreen that dominated the centre console and came complete with Subaru's 'StarLink' infotainment technology. This is the portal from which you access the six-speaker stereo and the usual 'phone and informational features, as well as the satellite navigation set-up you'll find fitted to plusher variants. The screen offers a smartphone-style 'swipe and pinch' control function for map displays and houses a standard-fit rear view camera. This offers a super-wide 160-degree field of view behind the car when reversing.
Accessibility to the back is helped by doors that open wider than those fitted to many competitor models. Once inside, Subaru talks of room for three adults, but the high centre transmission tunnel will make that difficult to achieve on all but the shortest journeys. It'll be fine for three children though. On the plus side, the XV's comparatively long wheelbase gives a decent amount of rear legroom, the space available helped by front seats that you can get your feet comfortably under. Out back, the 380-litre boot capacity is less than most rivals offer, but there is a small under-boot floor compartment and of course you can extend the capacity by pushing forward the rear bench - to 1270-litres, though the seats don't fold totally flat.
What You Pay
Please fill in the form here for an exact up-to-date information.
What to Look For
The underpinnings of the XV are shared with the Impreza, so it's about as tough as that suggests. Don't go searching for a spare wheel, as the XV doesn't come with one, which seems a bit of an omission for a car that proclaims its off-road ability. The engines get top results for durability and the running gear is also bombproof. Keep an eye out for signs of overzealous off-road action, which usually means hedge scrapes in the paintwork, chewed alloy wheels, dented exhaust boxes and possibly misaligned suspension. The interiors have proven hardwearing, although the dashboard mouldings can creak and rattle.
Replacement Parts
(approx based on a 2016 XV 2.0-litre diesel) Parts are pitched a good deal above what you'd expect to fork out for Vauxhall or Ford spares but Subaru counters that you'll need to buy them less often. A replacement headlamp unit will cost in the region of £275, whilst an exhaust is around £450. Tyres are around £90 a corner.
On the Road
Crossover models as a breed are all about what they say. The raised driving position, the plastic body cladding, the big wheels. And not a lot else. Subaru as a brand doesn't hold with that. Here's a company that cares about what it cars can actually do as well as the school run statement they make, with the result that this XV is far more capable than most buyers will expect. It does, in short, offer a different approach to the Qashqai and Kuga norm in this segment, something you get a feel for from the very moment you slip behind the wheel.
Twist the ignition key and you know you're in a Subaru thanks to the engine's characteristic flat, thrumming Boxer engine beat. Both of the mainstream four cylinder engines on offer use the Boxer configuration, one in which the cylinders lay flat and whizz back and forth like a boxer's fists. There's a single petrol option, a 148bhp 2.0-litre unit available with either a manual gearbox or a 6-speed Lineartronic CVT automatic. Most UK buyers though, will opt for the 145bhp manual-only 2.0-litre diesel model.
So how does it fare on the road? Well for a start, the driving position is extremely good, with decent adjustment of both the seat and the steering wheel. The windscreen pillars are refreshingly slim, although the rear three quarter view will have many relying on the parking sensors when nudging it into a parking bay. Get beyond the city limits and give the throttle a good prod and you're rewarded with a nice gravelly thrum from this 2.0-litre diesel as sixty is dispatched in 9.3s on the way to 120mph. Thanks to 350Nm of torque, there's reasonable pulling power through the sweet-shifting six-speed gearbox too, if not quite as much as is provided by some comparable rivals.
And around the twisty stuff? Well you might have reasonable hopes here, given Subaru's claims that thanks to the way the Boxer engine can sit very low in the car, this model can boast the lowest centre of gravity in the segment. Which ought to make it very taut around the corners. That might be true in theory, but it doesn't feel that way the first time you throw the XV into a tight bend. The raised driving position makes the car feel a little precarious, but stick with it and you'll find plenty of grip. In fact, the more you drive it, the more confident you get and it actually becomes good fun. Or would be if the electric power steering offered a bit more feel.
This car is better equipped for off road work than any of its Crossover rivals thanks to standard Symmetrical 4WD on all models and 220mm of ground clearance, 30mm more than you get in a Nissan Qashqai and more even than a Land Rover Freelander. Not that you'll be taking on the Rubicon Trail. A 19.6-degree approach angle means really steep head-on inclines might be beyond you and of course, like all Crossovers, this one lacks proper off roading mechanicals like a low range transfer 'box or lockable individual axle diffs.
But unless you're somewhere you really shouldn't have gone to in the first place with your XV, then you won't need any of that stuff anyway. A manual car distributes its torque equally 50/50 front to rear, with a viscous coupling to change that balance whenever a front wheel or rear wheel slips. It's as pure a four-wheel drive system as you could possibly hope for and it just works, even when only one wheel has traction. There's also a neat Hill Start Assist system which prevents the car rolling backwards when you're beginning on a sharp incline. All XVs get a very clever VDC stability control system which comes in very handy if you forget quite how muddy your tyres are. And you can switch it off if you want the kind of momentum-maintaining wheelspin that'll get you through really slippery sections.
Of course, if you're a typical Crossover customer, then you might be wondering whether this kind of capability is really necessary. The answer is that it's like having a watch that's waterproof to 200 metres. You'll probably never need it, but it's good to know it's there.
Overall
Here's a car that makes more sense the more you think about it. It may not be quite as flashy as some other segment rivals but there's plenty else to like, primarily the standard 4WD system, the brilliant build quality, the lovely charismatic Boxer engines and this XV's surprising off road ability. Then add in high equipment levels and strong standards of safety. Starting to look rather tempting now isn't it?
Especially as some of the things that might previously have put you off a used MK1 model XV - a plasticky cabin, a lack of media connectivity and very average levels of running cost efficiency - were all usefully improved with this smarter-looking post-'16-era model. Of course, this Subaru still wasn't perfect. Ride and refinement could be better, the boot could be bigger and it's still never going to challenge for class honours on an economy run. These things needn't be deal-breakers though. And for many loyal buyers, they certainly don't dilute the XVs many virtues.
In summary, what we have here is a refreshing change from the whole 'style over substance' approach that seems to characterise so many Crossover models. It's something Subaru's never quite understood. And hopefully never will.