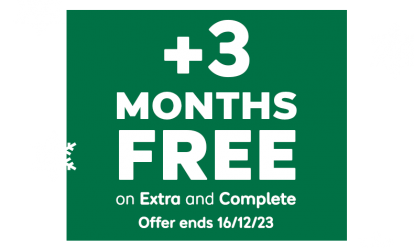 With 12 months of cover, new customers get an extra 3 months for free*.
*Added after 12 months, excludes Basic cover. New customers only. Ends 16/12/23, 7am.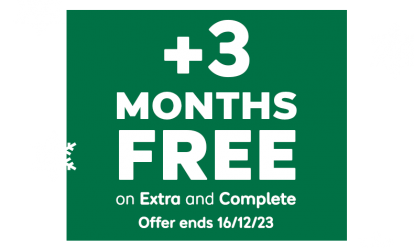 The fifth generation Subaru Forester e-Boxer has been usefully updated. Jonathan Crouch reports.
Ten Second Review
Boxer engines and Subaru have been inseparable for most of this Japanese brand's life. In recent years though, some have begun to question whether this flat four format really has a place in the industry's largely electrified future. Subaru wants to assure us that it does, hence the introduction back in 2019 of a full-Hybrid e-Boxer petrol unit for this fifth generation 'SK'-series Forester. Now this model's been lightly updated.
Background
Wouldn't it be nice to find a properly capable mid-sized family SUV? A car that could walk the walk as well as talking the talk? A car like this one, Subaru's fifth generation Forester, enhanced back in 2019 with an e-Boxer mild hybrid petrol powertrain and more recently given a useful mid term wash 'n brush-up. Everything about this design seems to be nicely balanced, from the shape and positioning of its electrified Boxer engine to the shape and positioning of its intended clientele. People who want something fashionable, but don't need to make a fashion statement. People who want something tough and rugged, but don't need to tackle the Rubicon Trail. So the smarter outside styling will go down as well as the Symmetrical All-Wheel-Drive system and the symmetrical off road technology.
You buy this car for what it does, not for what it says about you. Talk to almost any Forester owner and they'll tell you of times when they cruised past other similar vehicles that came unstuck when the going got tough. They'll tell you that nothing ever fell off. That nothing ever went wrong. And that nothing would persuade them to buy anything else.
Driving Experience
For most of the Forester model line's life, this Subaru was sold primarily with a Boxer diesel powerplant and it took some time for the brand to shift its engineering emphasis. The current e-Boxer mild hybrid petrol unit wasn't introduced until 2019, but looks quite promising on paper. Thanks to a small electric drive motor with 16bhp and 48 Ib ft of torque, this powered by a little lithium-ion battery. The Forester can in this form offer emissions-free motoring for short periods. The whole set-up's relatively light (it adds only 110kgs to the 150PS 2.0-litre normally aspirated petrol powertrain it's mated to). And it drives through a re-engineered version of the same belt-driven Lineartronic CVT auto gearbox that various Subarus have used for some time. Best of all for loyal Forester towers, there's none of the usual reduction in hauling capacity that hybrids of any kind are usually afflicted with. This one can tug 1,870kgs, helped by the brand's usual asymmetrical four-wheel drive system.
On the move on tarmac, the hybrid system's electric motor provides a bit more instant pulling power, especially when using the car's provide 'S' driving mode. Steering wheel gearchange paddles are provided and a rear stabiliser has been added for a little more cornering decorum. Off road, the Forester, as you'd expect, makes light work of tough terrain thanks to decent ground clearance, that responsive and capable 4WD system and standard hill descent control.
The standard driver-selectable mode (SI-DRIVE), is Subaru's powertrain performance management system that allows the driver to tailor the vehicle's throttle characteristics by choosing between "Intelligent" ("I") and "Sport" ("S") modes. With 220 millimeters of ground clearance, the Forester's well suited for off-road adventures, while the dual function X-MODE (with "Snow/Dirt" and "Deep snow / Mud" modes) has been enhanced, now offering improved functions, suited for a variety of weather and road conditions.
Design and Build
Visual changes to this updated Forester e-Boxer model include a restyle for the grille, the headlights and the fog light covers. Otherwise, the solid, practical looks are much as before - which is exactly what loyal customers want. They're apparently based on the brand's 'DYNAMIC X SOLID' design philosophy. In profile, this MK5 model's quite generous body length might be noted, along with its raised 220mm ground clearance. And at the rear, there are smart tail lamps and contrasting black trim above the numberplate.
Inside, the cabin has a more expensive feel than you might expect for a Subaru - which is just as well given the asking price. There's nothing here to give Audi designers any sleepless nights but it's a big step forward for a Forester. You get an 8-inch central infotainment screen featuring 'Apple CarPlay' and 'Android Auto' smartphone-mirroring. And generally, it's very spacious for passengers by class standards, which is particularly noticeable at the back. A fast automatic tailgate accesses a large boot - 509-litres in size, or 1,779-litres with the back seat folded, offering a 1.98m-long loading area. Upper cargo hooks have been adopted to make use of the height of the Forester's trunk space, to facilitate safe hanging and holding of luggage.
Market and Model
Pricing for this Forester e-Boxer is pitched at around £36,500 for the standard variant - or around £40,000 for the plush 'Premium'-spec version. Expect lots of equipment, even in the base variant. The kit list runs to full-LED headlights with auto activation and high beam assist, front fog lamps, heated power-folding mirrors, UV-protection glass that's privacy-tinted further back, rain-sensitive wipers, wiper de-icers, headlight washers and a Thatcham category 1 alarm/immobiliser. You get alloy wheels of course too. Inside, there's dual-zone air conditioning, a Keyless access system with a push-button starter, heated front seats and cruise control, plus leather for the gearstick and the multi-function steering wheel.
The big news with this revised model is its improved EyeSight Driver Assist Technology. The enhanced safety system features a wider field of view, almost doubled, and is available with eleven safety functions, among which three extra functions have been added, such as 'Automatic Emergency Steering', 'Adaptive Cruise control with Lane Centering' and 'Lane Departure Prevention' (recognising roadway dividing lines like grass or road edging). In addition, the Pre-Collision Braking System offers now expanded support for collision avoidance at intersections. And the Driver Monitoring System, Subaru's facial recognition technology that alerts the driver of fatigue or distraction while on the road (as well as automatically adjusting driver settings for seat position, door mirror angles and air-conditioning preferences) has been enhanced with a new gesture control function. This allows the driver to raise and lower the set temperature of the automatic climate control system through hand gestures.
Cost of Ownership
Normally, a more capable car is a more expensive one to run. You'd certainly expect that the permanent Symmetical 4WD system of this Forester would exact more of a fuel and emissions penalty than would be found on most other rivals, cars that trundle around in two wheel drive most of the time, with all-wheel traction only being introduced when needed. Thanks to the mild hybrid technology, you might be pleasantly surprised on that score, but don't get your hopes up too high; from the launch of the e-Boxer engine back in 2019, Subaru only ever claimed an improvement of around 11% over the city economy figures of the previous generation 2.0-litre petrol model. Expect 34.7mpg on the WLTP combined cycle, with CO2 emissions at 185g/km (also WLTP-rated).
What else? Well there's the peace of mind of a five year / 100,000 mile warranty that embarrasses the three year / 60,000 mile package most rivals offer. You also get a three year recovery and roadside assistance programme you'll almost certainly never need.
Summary
If you've always found yourself attracted by the tough utility of a Subaru Forester but were put off by the prospect of below-par running costs, then this improved fifth generation e-Boxer model might be exactly what you're looking for. Most hybrid SUVs are in some way compromised when it comes to things like towing and off roading; this one isn't. True, it doesn't have the kind of electric capability you'd get from a pricier, less capable plug-in rival. But you may not need that - and if you don't, then this MK5 Forester's mix of old-school toughness and new generation technology might just be right up your street.
Crucially, this is now an SUV you could consider as a realistic alternative to more compromised competitors. This Forester is fashionable without being trendy. And built to last while never feeling utilitarian. In short, it's the kind of car it really ought to be, a vehicle in which four wheel drive is fundamental, rather than simply an optional extra and as a result, one of the best cars in its class to buy if you really plan on using it to its full potential.