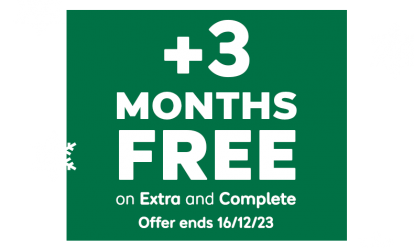 With 12 months of cover, new customers get an extra 3 months for free*.
*Added after 12 months, excludes Basic cover. New customers only. Ends 16/12/23, 7am.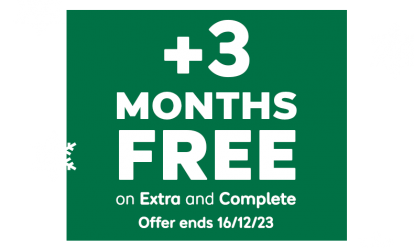 By Jonathan Crouch
Introduction
Skoda's idea of a performance mid-sized SUV is different to many other rival brands - and more appealing for that. The Kodiaq vRS BI-TDI diesel model launched in 2019 sold for the kind of money that could alternatively get its customers a faster premium-badged crossover, but this seven-seat Czech contender delivered more character, more space and family flexibility, cheaper running costs, more traction, more equipment: more of just about everything really. None of which would matter if this wasn't really a credible piece of performance engineering. But, rather surprisingly, it actually is.
Models
5dr SUV (2.0 Bi-TDI)
History
In the normal run of things, you wouldn't consider a Skoda Kodiaq, the Czech brand's mid-to-large 7-seat 'D'-segment SUV, as being an ideal candidate for performance engineering. It's a family conveyance intended for suburbia rather than Silverstone. Firming it up, adding on a body kit and shoe-horning a powerful engine beneath the bonnet ought to make little sense.
All of which would be true if for the car we're looking at here, the Kodiaq vRS BI-TDI launched in 2019, all Skoda had done was to replicate the usual performance formula that Volkswagen Group brands have for their fastest hatch and SUV models: a 2.0-litre turbo petrol engine with four driven wheels and around 300PS on tap. But that wasn't what was served up here. Instead, there was a more sensible bi-turbo diesel with impressive torque, startling performance and a rather lovely growl. Surprising Skoda? In this case, yes.
This BI-TDI model was only on sale a couple of years. The need to lower emissions across the range forced Skoda to end its production at the end of 2020. With the Kodiaq facelift of 2021, the vRS model was re-introduced, though this time with a 2.0 TSI turbo petrol engine. It's the BI-TDI diesel version though, that we look at here.
What You Get
Skoda dressed the Kodiaq vRS carefully to match its premium performance station in life. So there are eye-catching 20-inch 'Extreme' alloy wheels, along with red 'vRS' badges on the nose and tail. Plus sleeker bumpers, big bore dual exhaust tips and gloss back finishing for the roof rails, wing mirrors, window frames and front grille. None of this does anything to disguise this SUV's quite prodigious size; at around 4.7-metres in length, it's one of the biggest VW Group models to be spun off the conglomerate's MQB platform.
Inside up front, you get carbonfibre trim and the obligatory sports steering wheel which, like the gearshift gaitor, features red stitching. Plus aluminium pedals and sports seats upholstered in the same classy quilted microsuede fabric that also features on the door cards. There's a 9.2-inch centre-dash infotainment touchscreen. And Skoda included its 'Virtual Cockpit' digital instrument binnacle display, which can be customised based on the kind of information you want to view.
This second row bench features all the versatility you'd want from this kind of seven-seat SUV, so the backrest reclines for greater comfort on long journeys and the base slides back and forth by up to 180mm. This vRS variant retains a third seating row - the kind of thing some performance SUVs dispense with. In the very back, you're quickly reminded that this is an SUV, not an MPV. Overall though, the third row space here isn't really any more restricted than it would be in any other mid-sized SUV of this kind.
Out back with the powered tailgate raised, there's 270-litres of luggage room with all three rows in place. Most of the time though, Kodiaq vRS owners are probably going to be using their cars with the rearmost seats folded into the floor, an action easy and simple to complete. In which case there's 630-litres of space on offer with the middle row sensibly positioned. With all the seats flat, a class leadingly-large 2,005-litre space is revealed. So yes, this is about as practical as performance cars tend to get.
What You Pay
Please fill in the form here for an exact up-to-date information.
What to Look For
Our ownership survey came up with a few things. In some cases, the door handles creak when you grab them. We've also heard of issues with the front assist sensors and the trunk cover which occasionally is stopped from rolling back. Other owners have reported premature wear of wheels, rattling sounds and parts of the upholstery coming apart. Check out all the electrics. In one case the key fob opening only the tailgate halfway. There have also been issues with door guards jamming out and getting knocked off. There have also been some reported issues with the Mirrorlink aspect of the infotainment system, so make sure that the screen pairs properly to your smart phone. Otherwise, it's just the usual things: signs of interior child damage and the interior scratches and the alloy wheels caused through poor parking. Insist on full service history.
There are a few product recalls we should tell you about. For models made in 2019, there was a recall regarding the belt pulley securing ring of the steering system, which in a few cases wasn't fully engaged. On 2020 models, due to a manufacturing error, there are a few cases in which the brake pedal plate may not been adequately welded and may be deformed and completely detached. For models made between 2020 and 2022, there was a recall regarding engine design covers that might come loose from their attachment. Make sure that the Kodiaq you're looking at has had all of these recall issues addressed.
Replacement Parts
(approx based on a 2018 Kodiaq 2.0 TDI vRS excl. VAT) A pair of front brake pads are around £46; rears are around £20-£67. A pair of front brake discs start at about £186; rears are around £96-£100. A thermostat is around £28. Air filters sit in the £9-£22 bracket. Oil filters cost around £6-£13. A wiper blade is around £5-£19. A water pump is around £103. A rear lamp is around £142-£229. A pollen filter is around £8-£9.
On the Road
It's not only the manufacturer branding here that rather handicaps this car but also its crossover genre, its 7-seat interior and, as if all that wasn't enough, a rather exalted price tag. So in the unlikely event you were even aware that this car existed, you might easily dismiss it out of hand. But you shouldn't. Not if you want family transport with seven seats, a bit of character, sensible running costs and a searing sense of speed anyway, not a combination easy to find for sensible money in today's market. Instead of a high powered petrol unit, for the original version of the Kodiaq vRS, the Czech maker chose to use the most sophisticated diesel the Volkswagen Group engineering department could offer it, a bi-turbo 240PS unit with a hefty 500Nm of torque, the most that had ever featured in a production Skoda.
The top speed is 139mph but more significant is the way that this twin turbo powerplant spirits this big SUV to 62mph in just 7 seconds while making a lovely (but unfortunately artificially induced) growly noise when you flip the drive mode system into its 'Sport' setting. Thanks to standard adaptive damping, those settings influence ride quality as well as steering feel, throttle response and the change timings of the DSG paddleshift auto gearbox that's necessary to harness the twin turbo powerplant's prodigious grunt.
Overall
Skoda's vRS model line dates back to an Octavia with that badge launched back in 2001 featuring a 1.8-litre turbo petrol engine with 180hp. At the wheel of this modern interpretation of what vRS branding can mean, it's instructive to consider how things have advanced since. Though the Kodiaq vRS BI-TDI weighs 357kgs more than that old Octavia and can stow far more luggage and seat two extra people inside, it's no more expensive to run and gets to 62mph a second quicker. The handling can't be quite as sweet of course, but the way the Czech engineers reined in what ought to be prodigious levels of body roll from a car of this size is deeply impressive. And we actually rather like this model's engine growl party piece, even if it does have artificial origination.
And in summary? Well the elephant in the room here of course is the premium asking price, which gets you any number of premium brand mid-sized SUV alternatives from the 2019-2020 era. Hardly any of which have seven seat family versatility. And hardly any of which, we've decided after trying this car, we'd rather have over a Kodiaq vRS. The formula here doesn't really add up on paper. But in the metal, we think the right kind of family buyer might rather like it.